1.
NeverBounce
 – List Cleaning & Email Verification Tool
NeverBounce is the most reliable real-time email verification and email list cleaning system which verifies all the email addresses without sending emails and automatically extract all the bad and duplicate emails that are harmful to your email marketing campaign. It can be integrated with a number of platforms.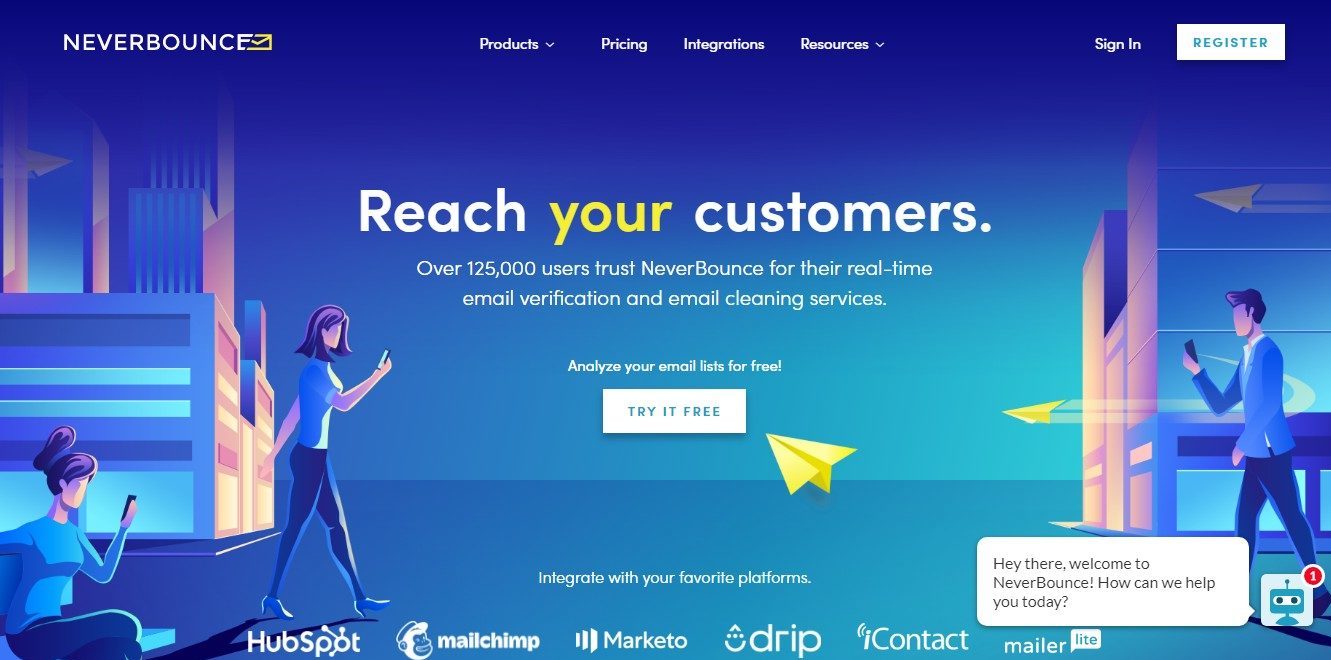 Amazing Features
It guarantees a correct and valid email address in real-time without the call to send a message. Our E-Mail Verification API is simple to install on all websites and applications.

If you're not a developer and are struggling in executing seamless integrations, NeverBounce has answers for that too. The product gives pre-built API wrappers for the user to copy and paste for quick outcomes.

Syntax and format assure that an e-mail satisfies certain fundamental criteria, such as whether a "@" symbol is included inside the e-mail address.

The domain access secures a valid Internet domain name is held by the email address and validates if the email address is set up for receiving mail.

An email checker has a custom B2B cloud platform intended to speed up, and the customized Cleaning B2B List platform is designed to fit the many requirements of B2B email list cleaning software.
Benefits
Highest accuracy at the affordable price

Up to 99.9% delivery guaranteed

Quick turnaround
This email verification service uses a 20+ pace cleaning method and checks each email addresses up to 75 times over the globe.
After uploading your email list, Neverbounce will classify them such as Invalids, Valids, Disposable, Catchalls, and Unknown.
Plus, this email scrubbing service checks email ids from the core level to the advanced level.
Want to get a free test of the service, you have to contact them. 
For Pricing & Plans, Please Visit – NeverBounce List Cleaning & Email Verification Tool Website – https://neverbounce.com/
2. ZeroBounce 
– Email Validation Tool
With a promised accuracy of 98%, ZeroBounce is the premier email validation system. Bound to email bounce detection, spam trap, and email abuse detection, ZeroBounce has a few unique features that differentiate it from its competitors.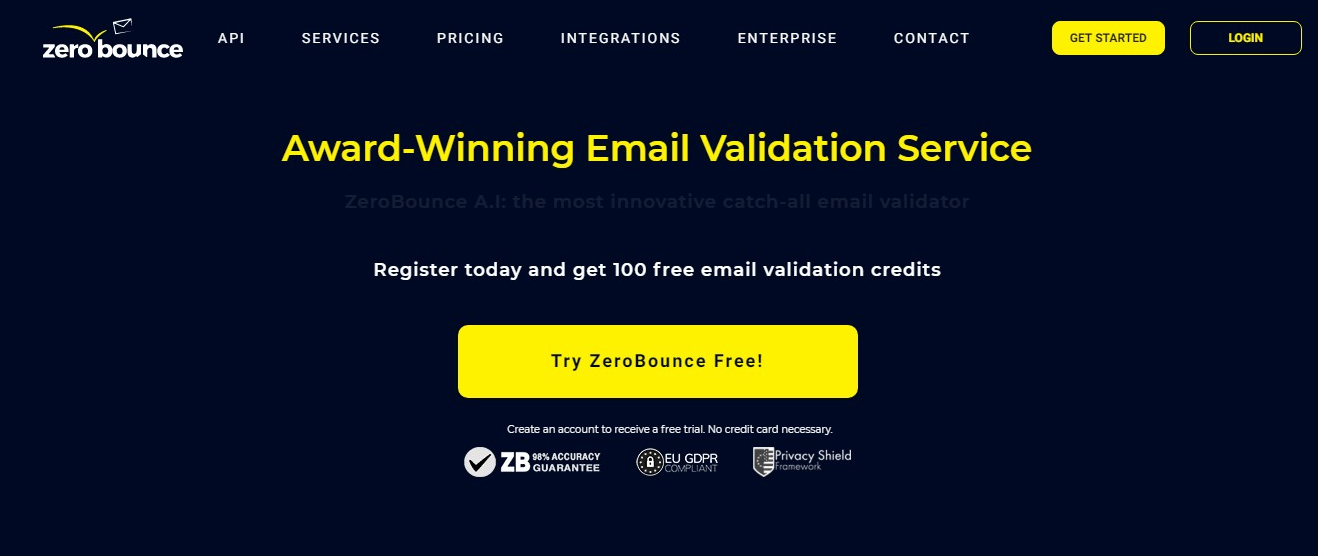 Notable Features:
Email Validation –

 ZeroBounce can detect if an email address is good or bad.

Catch-All Domains –

 Some domains mask validity, determining email addresses will always report as good, even when they're bad. ZeroBounce's exclusive technology uses algorithms to detect catch-all domains and identify which emails are incapable to be validated.

Abuse Accounts –

 ZeroBounce has assembled a list of known abusers (or complainers) to help companies reach the right audience while excluding those who don't want to be included.

Spam Traps –

 Based on inside research via a series of algorithms, ZeroBounce can identify email accounts that are connected with industry-wide blacklists, huge trouble that can wreck an entire campaign.

Do Not Mail Accounts –

 ZeroBounce recognizes role-based emails (support@, info@, sales@, etc.) as well as domains relating to companies that shouldn't be sent marketing messages.
Additional Features –
Free duplicate removal –

 It automatically extracts duplicates and does not charge for them.

Data Appends –

 ZeroBounce can add basic information (First name, Last name, Gender, Location) to data when available.

IP Appends –

 ZeroBounce can add information about the IP address (country, state/region, city, and zip code of IP registration) used when the email was registered or opted-in for promotion.

Advanced data protection –

 ZeroBounce is one of the most reliable email validation platforms. The company is using a top content delivery network, presenting customers with several layers of defense against data breaches and cyberattacks. Furthermore, ZeroBounce utilizes military-grade encryption ciphers to preserve user's files from the moment they sign up on the platform to the point when they download their clean email lists.
ZeroBounce A.I., the best catch-all email validator
Recently, Their team added a new service on its platform: ZeroBounce A.I., an artificial intelligence-driven email scoring system. With its exclusive algorithm, ZeroBounce A.I. scans all email addresses in a list and returns a quality score for each.
The score varies from 0 to 10, giving users better insight into their email hygiene. ZeroBounce A.I. is notably good at validating catch-all emails and helps customers save precious leads they would otherwise eliminate from their lists.
For Pricing & Plans, Please Visit – ZeroBounce Email Validation Tool Website – https://www.zerobounce.net/
You May Also Read This –