Clearalist – Bulk Email Verifier guarantee the most precise result as they clean the entire list manually. This service will reduce your bounce rate by removing all invalid & duplicate email addresses from your list.
There are many email list cleaning services in the world and of course, everyone claims that they are the best email cleaning service. Email list cleaning is a critically major part of reaching your customers with targeted email marketing messages. Poorly maintained email lists with lots of invalid email addresses look like spam to most filters, so you'll run the risk of missing many customers and losing your sending reputation if you don't routinely clean your email lists using an email list cleaning service like Clearalist. 
Clearalist email scrubbing service validates the entire list via Message Transfer Agents(MTA) to verify whether it has an MX-checker to track domains or not. Further, it also eliminates all spam records through Intelligent Spam-Trap Indicators. This service begins with anti-greylisting technology that guarantees more accurate results by securing your list from spammers.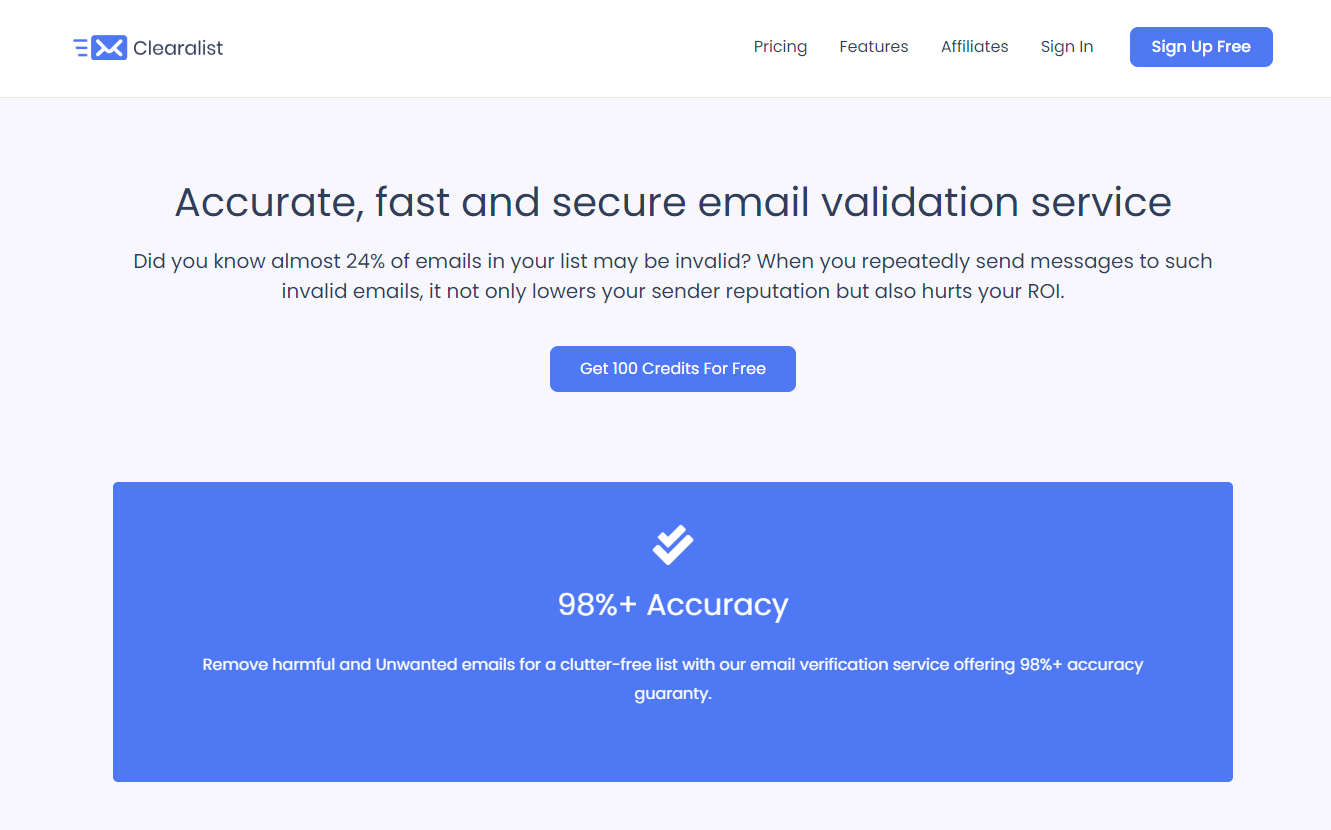 Important Features:
Clearalist Email Verification offers a wide range of unique features that can help you keep a strong email list of subscribers.
Syntax Remover- 

 Forget all your invalid email addresses as Clearalist Email verification removes all email addresses with any kind of invalid syntax.

Remove Invalid Emails- Clearalist uses parallel email verification to give you the best outcomes by removing all the invalid emails within few minutes.

Risk Validation- 

Moreover, Clearalist Email Verification Service runs scans against high-risk keywords and Top Level Domains(TLDs) hence, it keeps your email list safe and risk-free.

Complaints Eliminator-

 In case, any email addresses that meet their complaint database are excluded immediately.

Domain Clearance-

 Furthermore, it removes all email addresses containing invalid, inactive, or parked domains.

Round-the-clock Support-

 If you get stuck at any hour of the day, then don't bother because they are ready to assist you with live chat support.
Additional Features
Syntax Validation
Remove Disposable Emails
Duplicate Remover
SMTP Validation
MX Record Validation
Catch-All Verification
Parallel Domain Analysis
Parallel Email Cleaning (10x faster than any conventional method with twice the accuracy)
Identify Inbox Full Recipients
Most Affordable Email List Cleaning Service
Most Dedicated Support Team
Clearalist List Cleaning is one of the most trustworthy tools for cleaning and validating email lists for entrepreneurs. You can upload your email list on the Clearalist dashboard, click on the button, and your list will be cleaned in a few minutes.
Clearalist email verification service has got 10 most beneficial steps for filtration. These steps clearly focus on a syntax error, formatting of the email address, domain check, and spam trap, and more.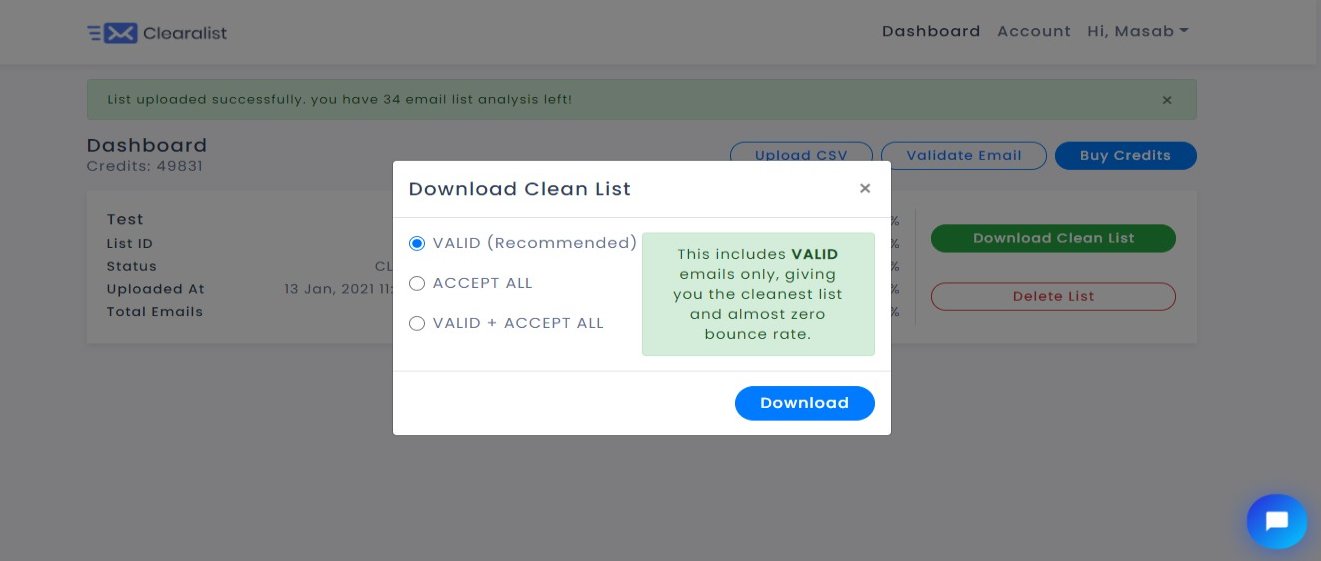 Notable Features:
Well, Clearalist has cool features that are most appreciated by first-time users seeking out email list cleaning services.
Email list cleaning

 – Clearalist cleans all bad and inactive emails off your list to improve your email marketing strategies. This email cleaning service will give you deliverability of up to 99 percent, high subscriptions, and responses. Clearalist email list cleaning also removes invalid, duplicate, and undeliverable email addresses that can affect your campaigns.

Bounce rate analysis

 – Your email addresses will be checked and provide you the entire list bounce rate for free.

Detect and clean disposable emails

– Clearalist can also detect all temporary and junk email addresses used during sign-up.

Drag and drop feature

– Drag and drop your email list in the CSV file on the Clearalist email verification software dashboard and get the health of your email list for free.
| | | |
| --- | --- | --- |
| Credits (Email Verifications) | Cost | CPC |
| 2,500 | $12.5 | 0.002 |
| 5,000 | $22.5 | 0.0018 |
| 10,000 | $40 | 0.0016 |
| 25,000 | $87.5 | 0.0014 |
| 50,000 | $150 | 0.0012 |
| 100,000 | $250 | 0.001 |
| 250,000 | $500 | 0.0008 |
| 500,000 | $750 | 0.0006 |
| 1,000,000 | $1,000 | 0.0004 |
Free Trial 
Clearalist gives you free email verification credits on Sign up
It will cost you $12.5 for cleaning 2500 emails, $40 for cleaning 10,000. Moreover, a pricing plan is given on the website by which the cost of email verification can be calculated easily.
On a particular level, if you would ask me, I found Clearalist Email Verification as the best email list cleaning software. The only reason is its accuracy and the speed with which you can clean your email list.
This service is available at such economical price plans that are starting at $12.5 for 2500 emails and going up to 1 million emails for $1,000.
For Further Pricing & Plans, Please Visit – Clearalist – Bulk Email Verifier