Does it get difficult to do all the email verification and list cleaning? Do you find it annoying to maintain your email lists? A number of the times even though the sales pipeline is complete and the funnel seems to be a warm one, sales officials still don't see the outcomes as they assumed them to be. While many of them have done everything right, still email deliverability seems to be an immense dilemma.
Email deliverability failure is apparently one of the most frequent causes of missing out on hot leads as it is also the most underestimated one. Such a circumstance arises when the planned email lands up in the spam folder and not in the user's inbox.
This is where the greatness of Email List cleaning begins. For an email marketer, your brand's reputation is the topmost priority. In many situations, it is your mailing list that requires to be cleaned since a bad quality email list can give a bad impact on your sender's reputation. 
An excellent way to make it possible is by using email list cleaning services or tools. 
If the sender is not allowed to be in the inbox, they are sent straight to the spam folder which alters the sender's reputation. The second cause- engaging with unengaged subscribers, well that's like intentionally landing up in their spam and wasting your time trying to get their consideration because that's never going to happen. We will assist you to explain how to clean the email list/scrub an email list online without any bother. 
To start with, let's see why anybody would require an email list of cleaning services like the ones we're going to address in a bit. Here's why:
Email Validation
It is really crucial to know that the work you're doing is actually worth the trouble. Imagine sending a lovely email to hundreds of people every day, only to see that most of them did not get them or half of the email IDs you used did not exist in the first place. It's always good to have your work tested before you start assuming the results, it helps run things on course without any divergences on the way.
Improved Production
Once you recognize you've been sending your emails to the right people, it would surely intend that those emails are landing up in their inboxes. And this is exceptional because the first step of the way is already accomplished by making certain that the message has been delivered to the right person and at the right place. There are lots of email list cleaning tools that can make it possible. 
Improved Leads
When the right people start reading and viewing your emails, they are definitely going to notice you, which is exceptional for your business to grow. Because at any point, you're going to build a brand recall value for your company and they'd be reaching out to you for whatever it is that you're giving to them. Once you've got the right target watchers reading your stuff, half your fight is already won. You can do it by using email verification and email list cleaning services. 
Now that we've gone through how important it is to have a clean Email List, let's get onto understanding a bit about the various email cleaning services that are the most reliable.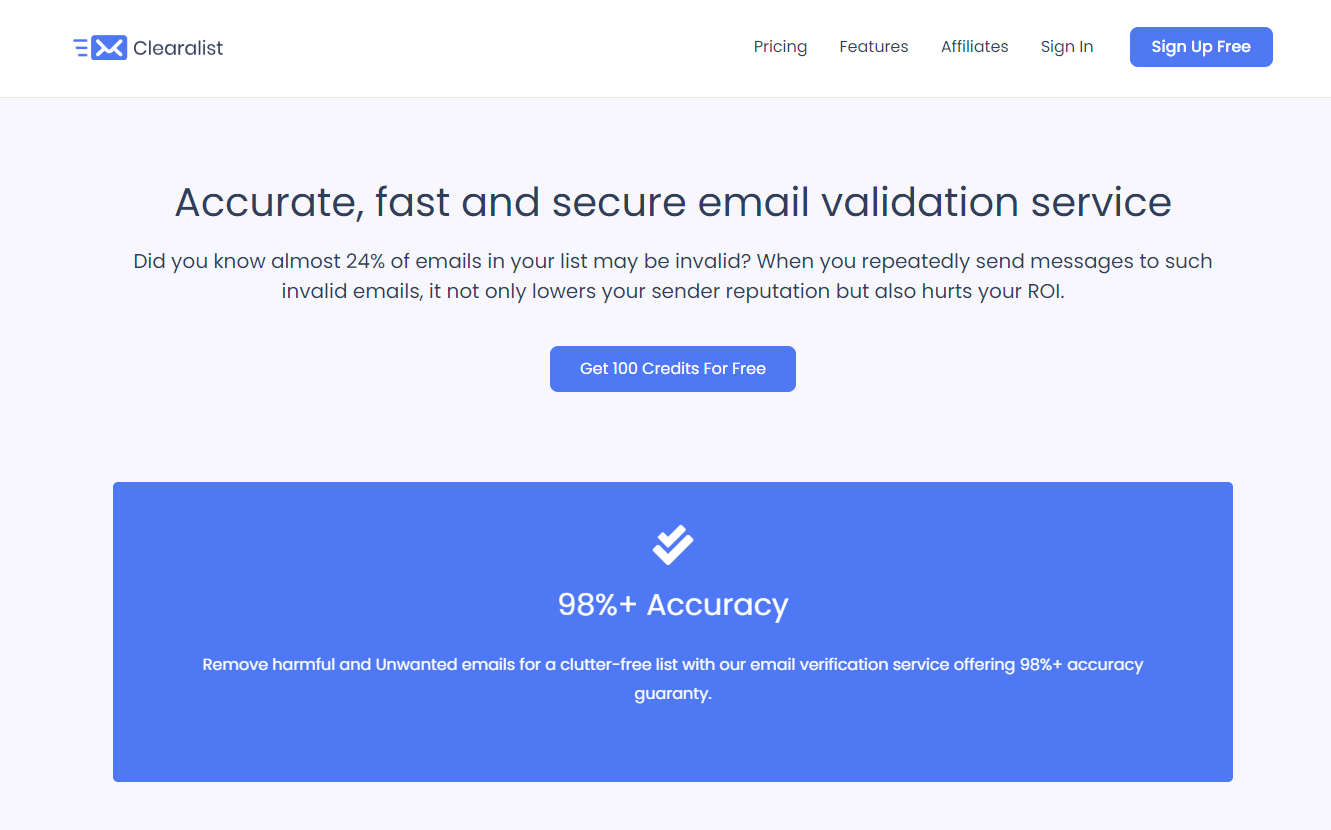 For those of you who are experiencing from poor mailing reputation and are witnessing a steep decline in your ROI, you apparently required to clean up your mailing lists right away. This is where email verification and list cleaning products like Clearalist email list cleaning services come in. Created especially to get rid of hard bounces and very email lists from scratch until the end, Clearalist can be an excellent choice for your business.
Not quite convinced? Let's take a look at its features and how to clean an email list using Clearalist:
To begin with this tool you can sign up for a free account with free testing credits and after this gently go through the various steps of the product. It'll require you to signup before you go on to upload your list of mailing Ids. You can simply begin by your mailing lists, with the help of product integrations that Clearalist gives to its signed-up users.
Additionally, You do not require to input any credit card details to do so. You can simply sign up by your email address using Clearalist. It's really simple to get your email list cleaned with Clearalist Email List Cleaning Application. You just require to obtain your plan by login to your Clearalist account, then you have to upload your email list from your Clearalist dashboard and after that our system will analyze your given list, if there's any email that needs to be scrubbed can easily be cleaned by just a click and the cleaned list link will be given to your email. Furthermore, You can easily download the cleaned list anytime and can start sending emails to those emails.
1. Verifying your List
The process of email verification and list cleaning is pretty easy. you will just need to upload a CSV file of your data to Clearalist. Additional, to ensure that the analysis is run smoothly, you will have to ensure the following:
Every row has only one email address

All email address to stick to the same column every time

The upper limit to the number of email addresses in a list is about 1 million.
After satisfying the requirements, you can use drag and drop or go on to upload the list through the CSV file to our system by signing in to your dashboard.
2. Verification
At this time, after you have uploaded the data, you will require to press the button which says "Clean email list". After running a couple of basic analyses for Spam traps and duplicates, the verification process will begin and you will not be able to evoke or pull it back after initiating it. This is because they follow a pay-as-you-go process for the fee and stopping the process in a midway will not be possible. One of the great features of Clearalist is that it also provides you free list analysis entirely free just before cleaning the list.
3. Downloading Results
After you check the email list in bulk and the checks are complete, you will be asked to select 'Download Results' to take a glance at the final data. You will also have the option of customizing the final report before you see it. You can select the type of emails you would like to observe and choose from the following: All Returns, Deliverable, Invalid, Disposable, Accept All, Unknown, or SpamTrap. You will again have the option of downloading a CSV file.
4. Real-Time Verification
Its system is able of running real-time verifications across the lists of email IDs that you want to upload. You may also include the test on a single email Id if required and a relevant check is executed. Their API is also developer-friendly and can give comprehensive deliverability data on each address in your email list.
Additional Features
Syntax Validation
Duplicate Remover
SMTP Validation
MX Record Validation
Catch-All Verification
Parallel Domain Analysis
Parallel Email Cleaning (10x faster than any conventional method with twice the accuracy)
Most Dedicated Support Team
Pricing- Their pricing model is pretty easy too. You literally pay for what you need. The pricing is pretty simple and you can begin working with a free account. Additionally, Clearalist unused Credits will never expire.
To Know The Pricing Plans Of Clearalist Email List Cleaning Services Click Here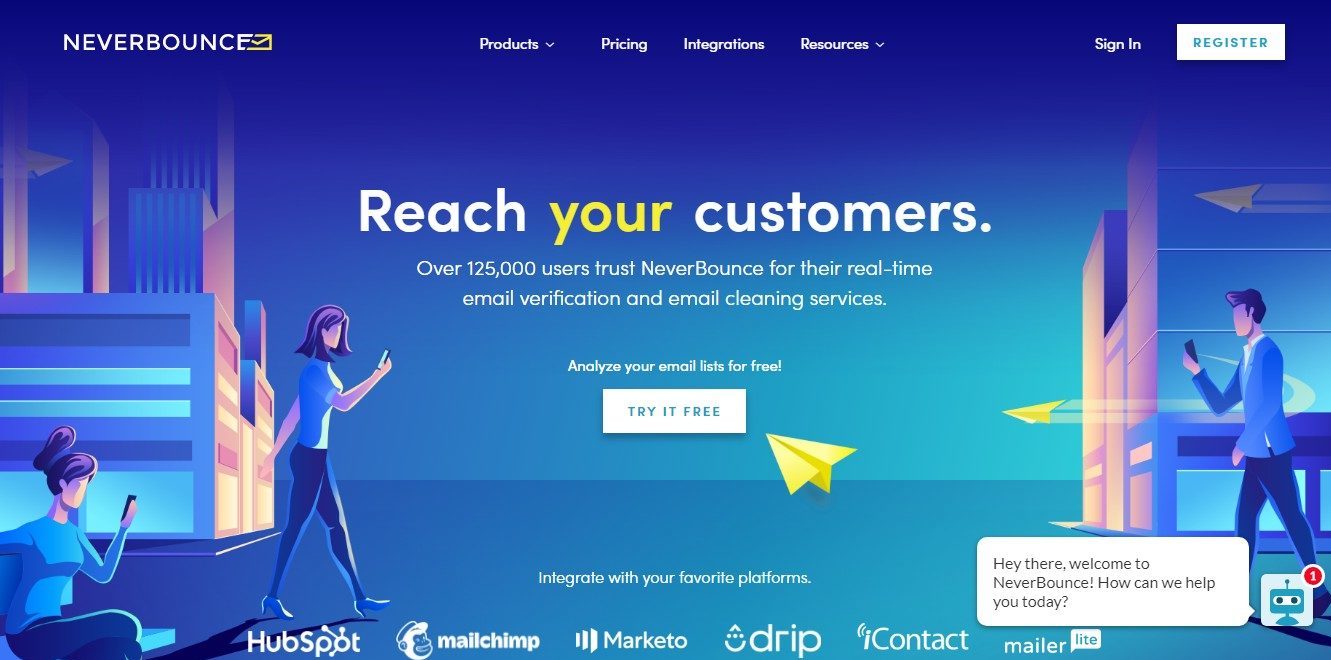 NeverBounce is an email list cleaning service that essentially points out all the wrong emails from your list and highlights them to be excluded. No matter how large the list, Neverbounce challenges to clean any size list without any glitches on the way. There are three simple steps to get the task done:
First, you require to upload your list to the NeverBounce system.

Allow NeverBounce to read and go through the email list and clean it from scratch

You can download the clean list before you use it to send out your emails to the recipients.
Yes, the method of email list cleaning is that easy.
1. Single Email Validation
An extra feature that is quite impressive and helpful here is this one. This special feature appears helpful in the case of a lead filling up forms, subscribing to newsletters, etc. When a visitor fills up their info in the lead carrying forms, the system immediately verifies the email ids filled in by them. All of this is done in real-time and guarantees no glitches. 
2. Javascript Widget
If you're not a developer and are struggling in executing seamless integrations, NeverBounce has answers for that too. The product gives pre-built API wrappers for the user to copy and paste for quick outcomes.
3. Human Verification
For those of you who do not believe in automated email list cleaning systems, NeverBounce also ensures human affirmation. What they like to give through this service is the complete promise of quality, and a never settle attitude for their clients. So, your email verification and list cleaning service just got a special twist. 
4. Result Segmentation
Once you upload your list of email IDs, NeverBounce splits them down into 5 different sections specifically Invalids, Valids, Disposable, Catch alls, and Unknown. For all of the sections, the product also specifies if it is safe to send them the emails or not. 
5. Running with CatchAlls
While the other levels of results are obvious, Catch Alls are the ones that most need to be informed. CatchAlls are email IDs that are created to receive all emails sent to them, irrespective of typos or the purpose. These email ids are taken as both valid as well as invalids which makes them 'catch-alls' You will very often find these email IDs with government organizations. The main purpose of these Ids is to never miss an email meant to be sent on to them. While this is a tactic that is common among small companies, catch-alls can come in helpful as emails are always got in their inbox.
Additionally, NeverBounce is authorized to GDPR concerning all the data processes that involve data collection, maintenance, alteration, and processing of personal data. The info of all their amendments related to GDPR is available on their company's website. So, feel free to work with this email list cleaning software without any hassle.
To Know The Pricing Plans Of NeverBounce Click Here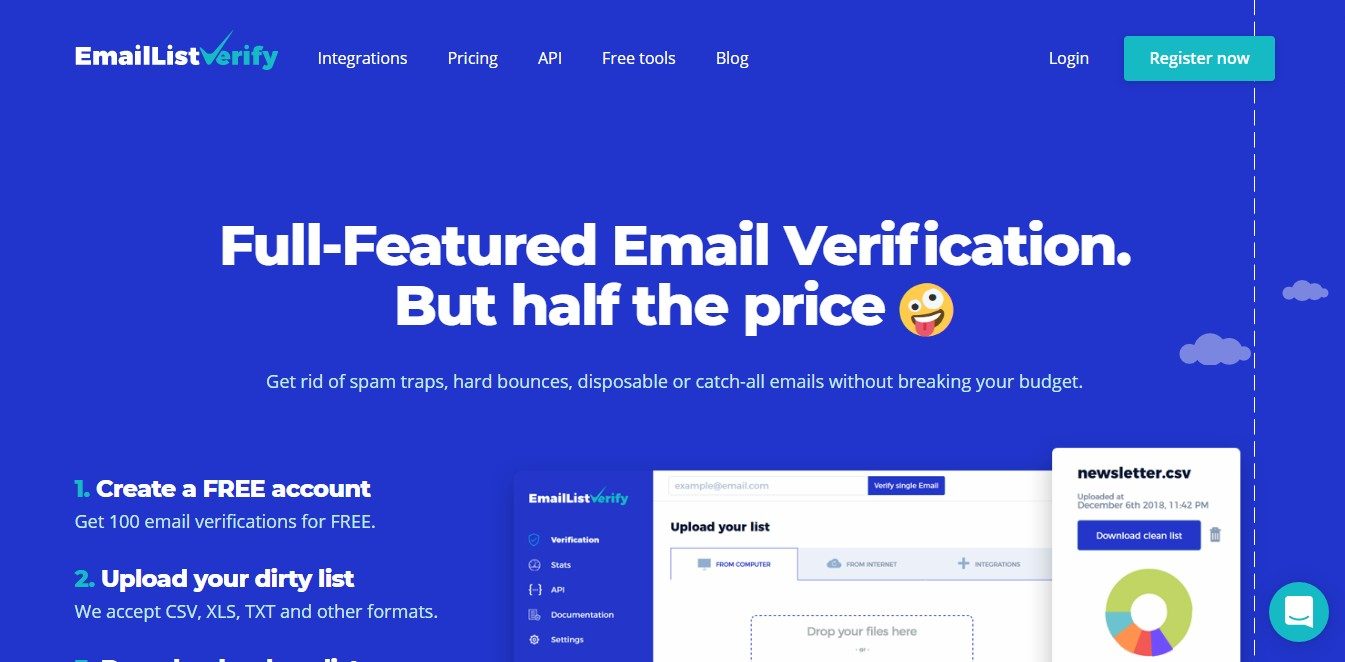 Another best email list cleaner on the table is EmailListVerify. Quite an ambitious product, this one actually provides very similar conditions as Unbounce does. Yet, there are still slight variations between the two. As you would understand by now, email deliverability is very important to be able to collect results out of your email campaigns.
So let's take a look into the EmailListVerify feature and get out how to clean the email list or scrub an email list online using this tool.
1. Email De-duplication
Usually, the data of email IDs extracted out by the data team includes a group of emails that might be duplicated in reality. By running your list of email IDs using EmailListVerify, you clear out the odds of duplicate email IDs immediately. Eventually, what you get are a full-proof email verification and list cleaning service.
This bulk email validation tool operates its intelligence through the list and cleans out each duplicate email address on your list. 
2. Spam Trap Removal
Spam traps are email ids that are built to draw spam emails so that they don't land up in the receiver's inbox. EmailListVerify secures that it cleans all records matching their intellectual spam-trap indicators, assuring that your email is sent to valid email Ids and lands in their inboxes simply.
3. Risk Validator
A remarkable feature of this free best email list cleaner holds a check on any typos or high-risk keywords that might affect your email to spam. It is very essential to have such revisions in place as spam detectors have become much more efficient over time. The need to be right with email addresses as well as the content that is sent has shifted more valuable than ever before.
4. Domain Validation
It is not just the email address that needs to be corrected the whole time but it is also the domain address that needs to be scanned into. The EmailListVerify system works a quick analysis of all the domain names of the email addresses put up for evaluation and assists recognize the invalid/ misspelled or fake ones. This way you can be absolutely sure of who you are giving your emails to and whether they are being sent to the correct people or not.
5. Syntax Verification
Furthermore, numerous times emailing lists would have the right email addresses but with syntax glitches in them. These are usually difficult to point out and identify, though, email list verification tools like EmailListVerify hold the ability to pick out the syntax error addresses and eliminate them instantly from the lists. This special feature here is quite helpful so to say, as these are normally minor errors and are left out even after running various checks.
6. Real-time Bouncing
Moreover, this bulk email validation tool sends out undetectable verification emails to those on the list which they weren't able to precisely validate. This functionality includes all email addresses that you might have on the list. Assuring that every single email ID is embraced and verified before you send out anything to them is a major deal as sending anything to a false email ID, someone who's immune to your emails could be a better spot on your mailing reputation on the whole.
Email Marketers would realize how crucial it is to keep your mailing list fresh and update it all the time. So here you go, you might want to address this free bulk email list cleaner EmailListVerify a chance.
To Know The Pricing Plans Of EmailListVerify Click Here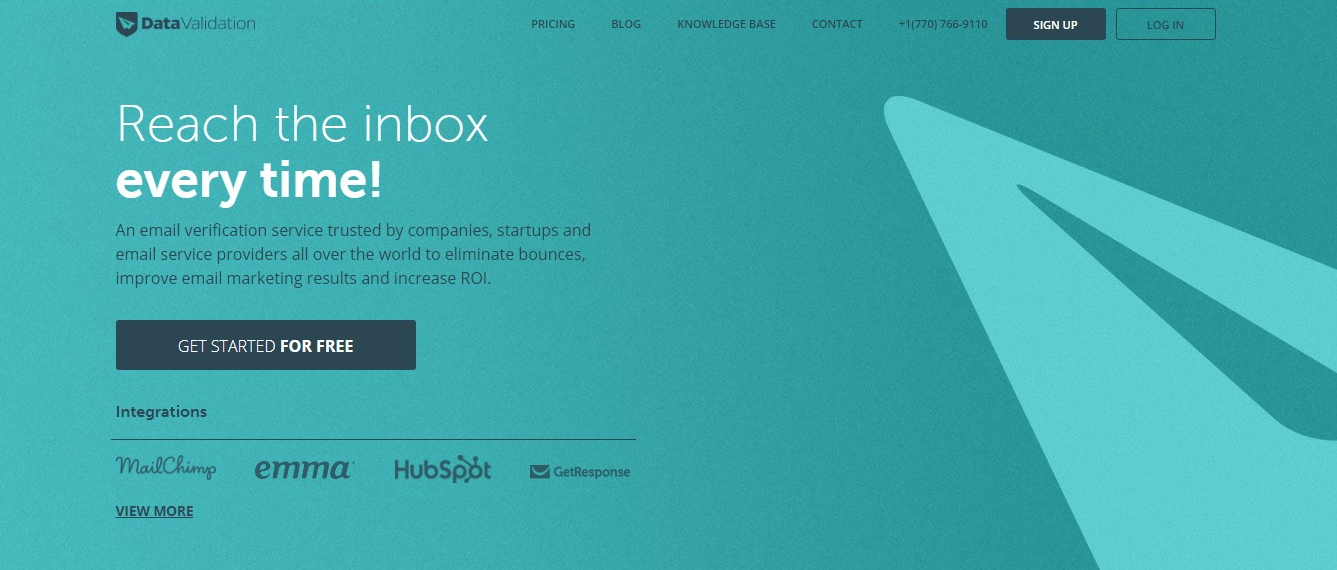 DataValidation is a great email list cleaning service and email list verification tool that give some really helpful services to its subscribers. It runs online and lets its users test as well as clean up their contact lists straightaway by uploading a file onto their software. The product boasts of practicing ESP integration or Real-time and Batch verification APIs.
When a business sends out emails on corrupt IDs or even misspelled, non-existent IDs can be shortlisted as SPAM and picked up by spam filters which do a lot of infliction to the business. Online status on this front can cause some serious impact and particularly to the newbies who've just come out to make some valuable contacts in the business. In today's competitive world,  online email list cleaning is a necessity for everyone. 
Keeping the interest of maintaining a stable reputation in the business, DataValidation has come up with a few characteristics in their product which not only takes care of the sender's online reputation but also gives the complete job of sending out bulk emails a lot more manageable. If you want to use this application we will help you to explain how to clean the email list using it. 
1. Reporting
Once you upload a file with your list of email addresses that require a quick but careful check, data validation, with the guidance of its analytics skills instantly generates a full report. This report is particular to the information and data that you feed on to the system and consists of the different email ids grouped as per various parts. It also includes a very strong quality scoring as well as a Deliverability Code Breakdown.
2. Tokens
DataValidation also allows prepaid data packs that allow its users with better-priced packages per email ID when they are acquiring the services in bulk. These tokens come without any expiration date and can be used without a validity capping until the token remains with the user.
3. Integration with ESPs
The System is already connected and integrated with some of the leading Email Service Providers of the business. If you have an account with any of these ESPs, particularly GetResponse, MailChimp, MailUp, Hubspot, AWeber, and Zapier, you will have a seamless encounter in terms of email verifications and report creation.
To Know The Pricing Plans Of DataValidation Click Here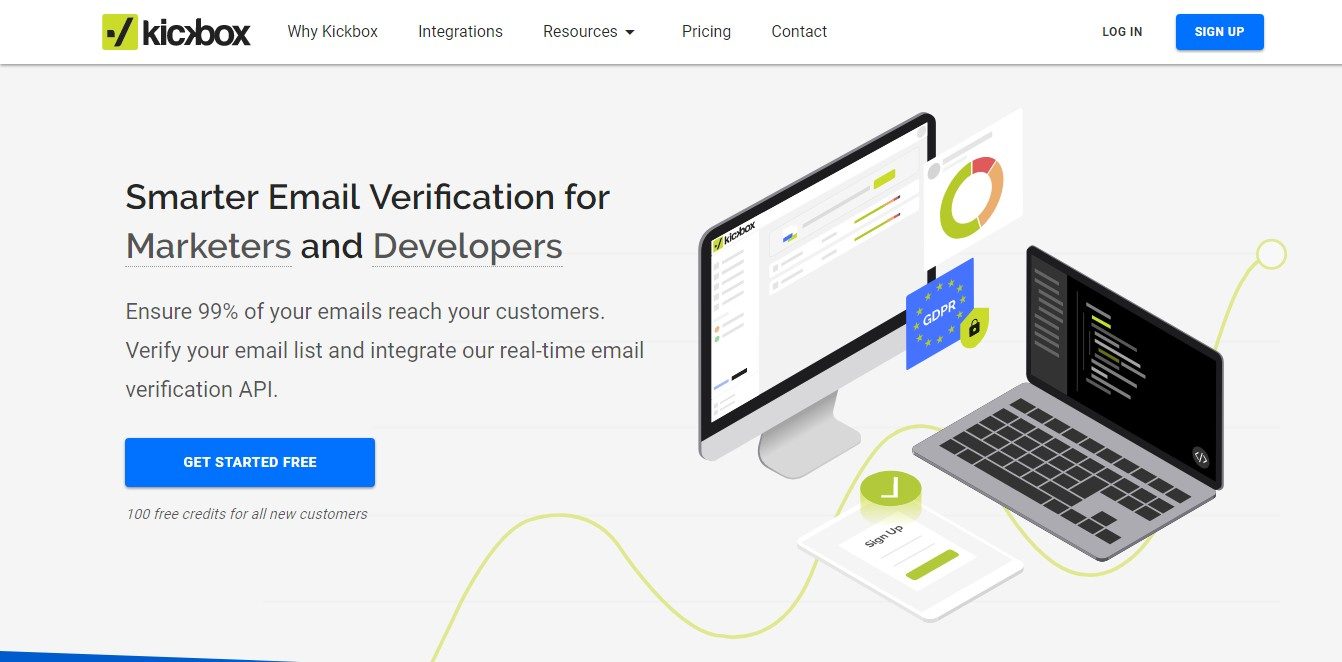 Built to simplify the lives of email marketers, Kickbox – one of the tools for email list cleaning begins with a range of interesting features. In the profession of sending an email and building an alliance with the prospects, every small step must be taken with utmost care and perfection.
Moreover, a hundred other elements that a marketer needs to do to reach out to the right people, emailing critical data on the right email addresses becomes critically significant too. At various times, many companies tend to lose out on their potential profit by dropping out on actually landing up in their inboxes. This blunder is often seen amongst startups and newbies who don't understand the value of constantly updating their mailing lists.
While there are many products and platforms in the business that caters to cleaning the lists of email addresses, there are very few such platforms that are useful and reliable, Kickbox signifying one of them.
Let's take a peek at some of its features that make it a must-have for email marketers' list of tools.
1. Email Verification
Email marketers normally end up wasting a lot of time and effort on strategizing and creating the perfect email campaign to get leads for their company. Still, it often goes to waste as the effort does not see any effects. A frequent cause of this situation is the absence of verified emails in their list of email addresses. Such a state
can be easily avoided with a feature like this one on Kickbox With this tool, you can instantly drag and drop your contacts on the interface to get your contacts verified in a jiffy and verify the email list. You can also validate the email list in bulk using this tool. 
2. Recipient Authentication
With this important feature, the ownership of email ids is verified online. One can easily use this feature to secure correct subscriptions to legit email IDs. It is ideal for account sign-ups, password resets, and wherever email addresses are captured.
3. Integrations 
Kickbox has some surprisingly smart and effective integrations with some of the leading email service providers, mainly including, Hubspot, MailerLite, MailGun, Marketo, Sendloop, MailChimp. The application automatically attaches to your ESP and quickly eliminates the undelivered email is to make things more manageable for the marketer.
To Know The Pricing Plans Of Kickbox Click Here
Conclusion:
Whether you have a large number of business and user contacts or not, and usually reach out to them over email, it is most helpful to always clean up and validate email lists. This is reasonably the best way to tenure that you are not trapped in SPAM filters and are strongly reaching your intended receivers. As you would know, missing out on landing up in relevant inboxes can result in the decline of customers, leading to a notable dip in revenues as well.