Without an email address, it's nearly impossible to do business these days. While it can be intriguing to save money by using one of the many free email options available, having a professional email address is important for you as a business owner, and it will be worth the money you spend. In simple terms, a professional email address is your contact identity for your brand. 
Benefits of Business Email
A professional email address that uses your domain name makes it easy for customers to find your business and website for more information. This also helps ensure that you are a legitimate and established company and builds trust. It's a great marketing asset. Plus, with every email you send or when you leave someone your contact information, you're also giving them a simple link to your website.
Most Legit Ways to Get Free Business Email at a Glimpse
1. Zoho Mail  
Zoho Mail is the no. 1 tool to create business emails for your company. It allows users to send and receive emails using their custom domain-based email accounts. Zoho Mail easily secures business email for your organization. Business email is an email account that you use mainly use for business or professional communications. Business email is built exclusively for teams and organizations that run business communications. It is set up with a custom domain used by the organization and adds credibility and professionalism to the brand.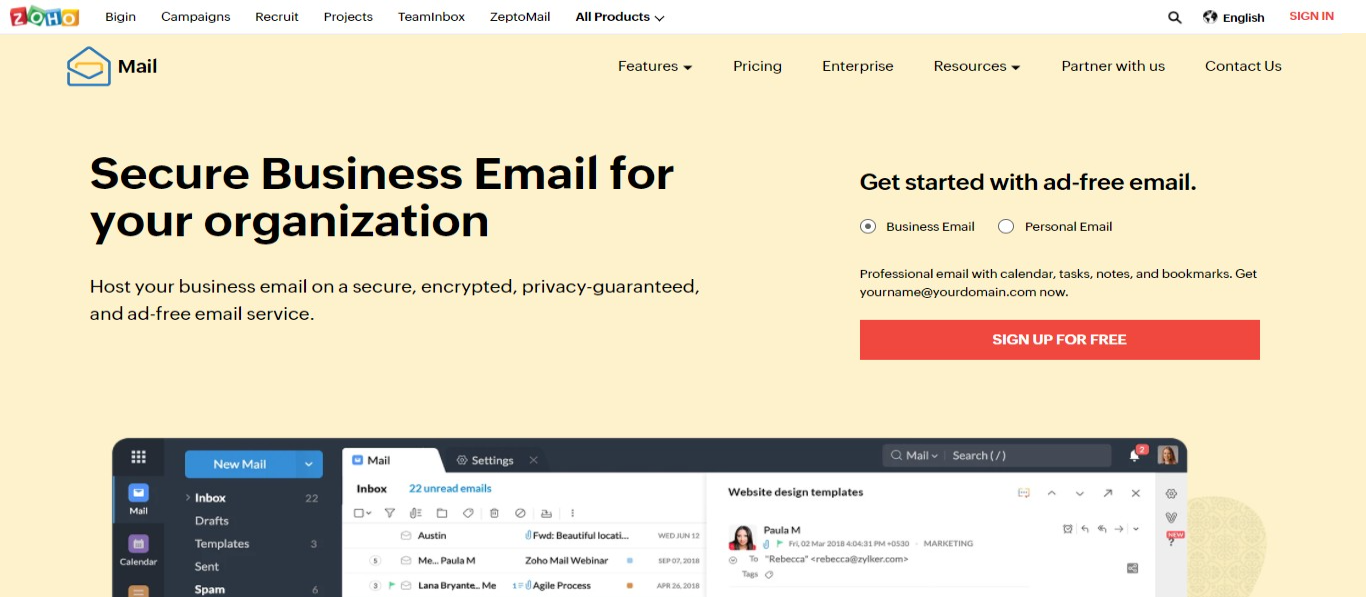 Features – 
1. Unparalleled security and privacy
Zoho Mail's data centers have top-notch security and surveillance, with a reliable 99.9% uptime. Benefit from secure email hosting that supports encryption both at rest and end-to-end, along with S/MIME message encryption.
Physical Security – To provide our customers with first-class secure e-mail, our hardware and data centers are equipped with the best services to withstand physical and logical security breaches.

Email Data Protection – Zoho Mail proves its worth as a secure email provider with a range of advanced tools to help keep your company's data safe. Rest assured that your data is safe with us.

Encrypted Email – Zoho Mail keeps emails secure by adding extra protection against unauthorized access via encrypted email. 

Secure Email Access – Zoho Mail has ensured secure access to your email account across your various devices. The rigid authentication process is designed to keep unauthorized persons away.

Certificates and Compliance – Zoho Mail is focused on delivering a reliable and secure email experience and complies with various international security standards. 
2. Stay professional with [email protected]
When it comes to communication between different organizations or companies, the most formal and reliable way is to send an email. For your brand to stand out and appear authentic, all official communication must be via personalized email addresses that contain your company domain, e.g. B. [email protected] You can first create a domain for your company and then set up custom email addresses for your domain.
3. Extensive Control Panel
The powerful Zoho Mail Control Panel is the administrator's point of contact for all settings, configurations, and adjustments. Add users, manage group aliases, configure policies to moderate the content of work emails, and more.
Import/Add users – Migrate your users from your old email provider to Zoho Mail by simply importing a CSV file or manually adding it in a few simple steps.

Email forwarding – Delegate or back up emails by forwarding them to an email address either inside or outside your organization.

Add user alias – Create more than just one email address for each user by setting up email aliases.

Vacation Reply – Worried about your much-needed vacation ditching potential customers? Set up user-specific vacation replies that keep your customers up to date even while you are away.
2. Bluehost
Bluehost is a leading web hosting company that has free business email included in its web hosting plans. It is best for those who want to build a website with WordPress and need a domain name (e.g. Yourbusiness.com) and web hosting like web hosting. Bluehost provides the best value for those who need a domain and free business email.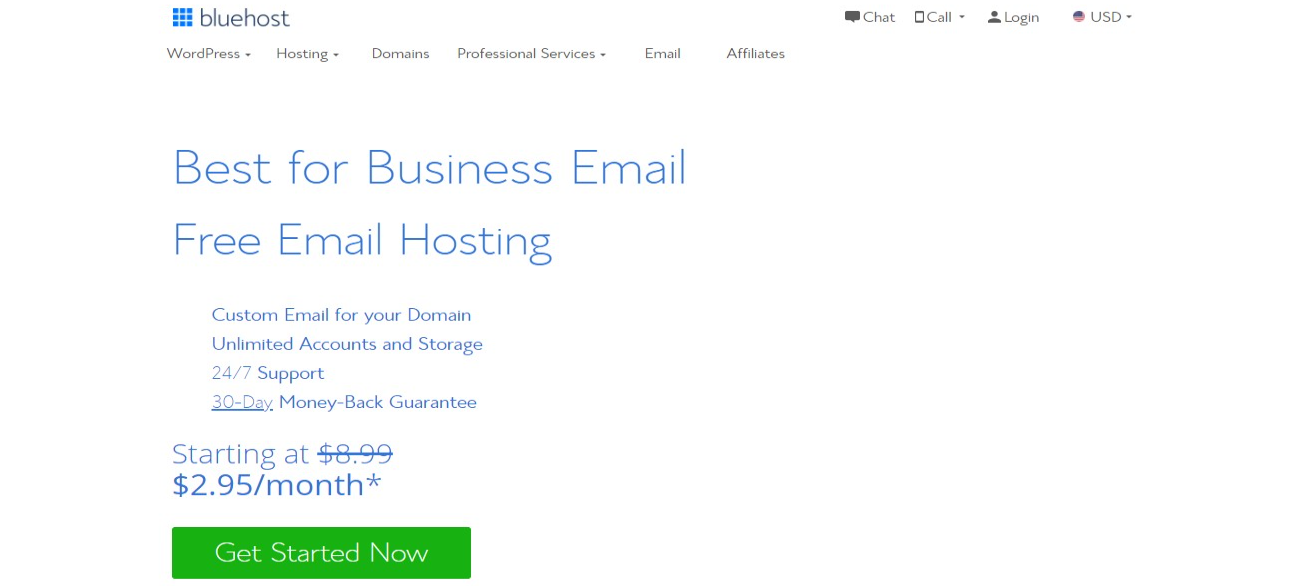 Features –
Custom Email for your Domain
Unlimited Accounts and Storage
24/7 Support
30-Day Money-Back Guarantee
3. Google Workspace
Google gives you the tools you need to run your business like a pro. Set up custom email, share files securely online, video chat from any device, and more. It's free for the first 14 days.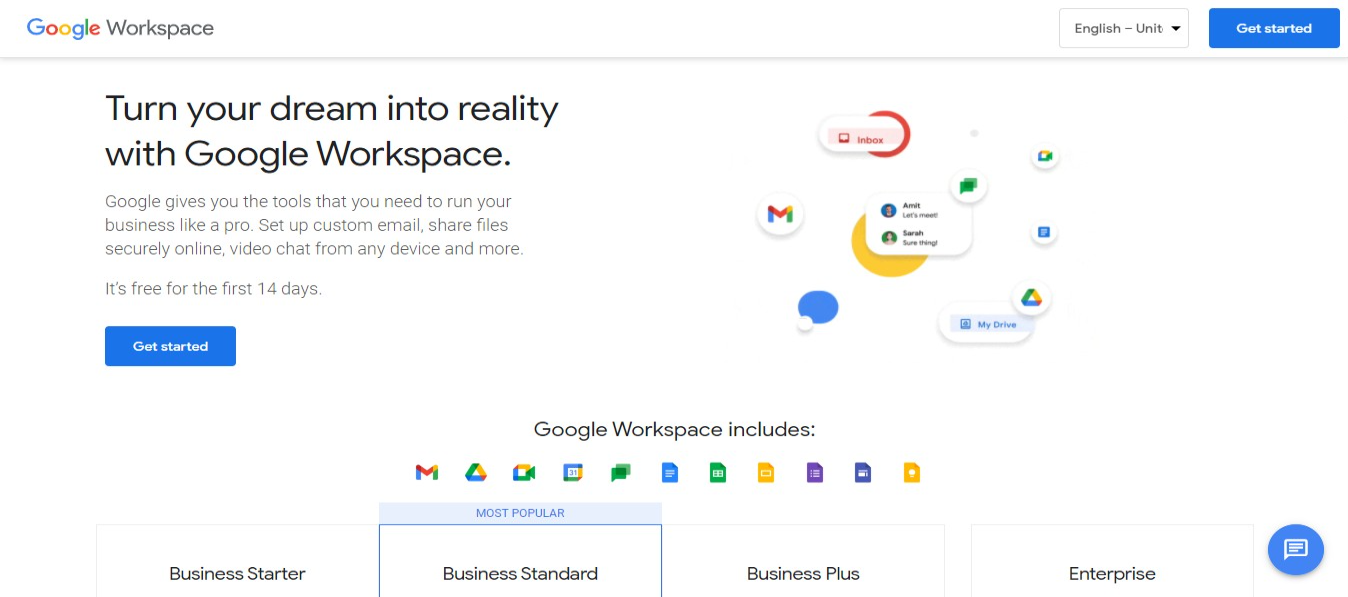 Features –
Get custom email @yourcompany – Look more professional with a custom email address on your domain like [email protected] You can also give a user an alternate email address, such as [email protected]
Work from anywhere – When you need more than just email to communicate, take a Google Meet video call or chat with a teammate right from your inbox on any device.
Easily scale up or down – As your team and business continue to grow, you can easily add or remove users. You can also upgrade or downgrade to another plan at any time to suit your needs.
You May Also Like