There are various email verification services available in the market. But determining the one that provides you the cleanest list at an affordable price is a tough nut to crack. To handle the task, we are up with a bunch of top email list cleaning services that are analyzed & trusted by maximum users.
1. ZeroBounce – Email Validation Service
Acknowledgments to its 98+ efficiency and advanced data protection, ZeroBounce has become a top player in the email validation industry. The company not only benefits marketers to maintain healthier databases but also offers an effective email scoring system, ZeroBounce A.I.
ZeroBounce can resolve if an email address is good or bad. ZeroBounce's proprietary technology uses algorithms to identify catch-all domains and identify which emails are weak to be validated.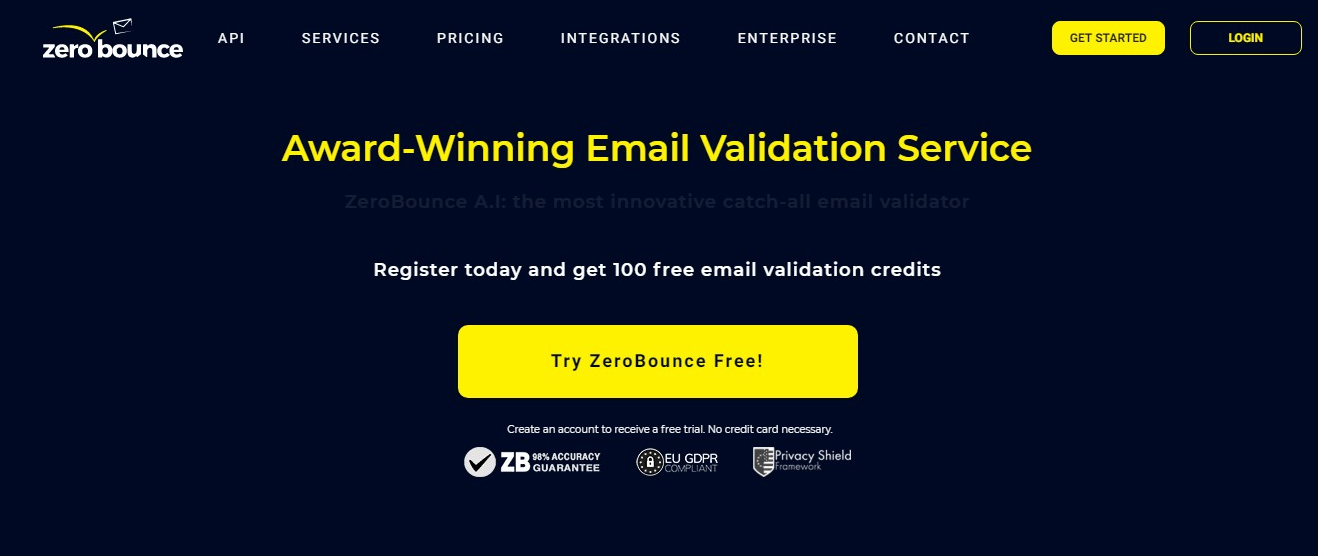 These are some of the features that make ZeroBounce the number one option of thousands of marketers around the world:
Email Validation: ZeroBounce can resolve if an email address is valid or bad.
Spam Trap Detection: Its system applies proprietary algorithms to detect and eliminate spam traps from databases
Abuse Emails Removal: Its service detects users who have a history of marking emails as spam and separates them from others
Catch-All And Temporary Emails Exposure: ZeroBounce decreases the number of bounces by identifying these dangerous addresses
Toxic Domains: Those domains are recognized for spam, abuse, and bot-created emails. The system detects and excludes them.
Real-Time Email Verification API: when installing on signup and registration information, it validates email addresses in real-time
Data Appending: ZeroBounce adds missing data to email lists, such as subscribers' name, gender, location, and IP
Email Scoring: ZeroBounce A.I. uses artificial intelligence to resolve the value of an email address. It's an outstanding catch-all email validator.
24/7 Customer Support: There are more than 15 email validation experts are online 365 days a year to assist customers to achieve more reliable email deliverability
For Price plans kindly visit ZeroBounce – Email Scrubbing Service Website
2. Clearalist – Email List Cleaning Service
Clearalist is yet another topmost validation service that cleans all the bad and inactive email addresses from your marketing list and gives the best results instantly. All you have to do is just upload the unclean list to its web interface and they will provide you a fresh email list that will be ready for sending campaigns. Clearalist is one of the best NeverBounce Alternatives out there.
Besides verifying if an email is deliverable (will not hard bounce); they will also monitor for high-risk emails, emails linked to online fraud, complainers, disposable emails, roll-based accounts, and various other risky emails that can negatively influence deliverability. No other provider gives this level of detail.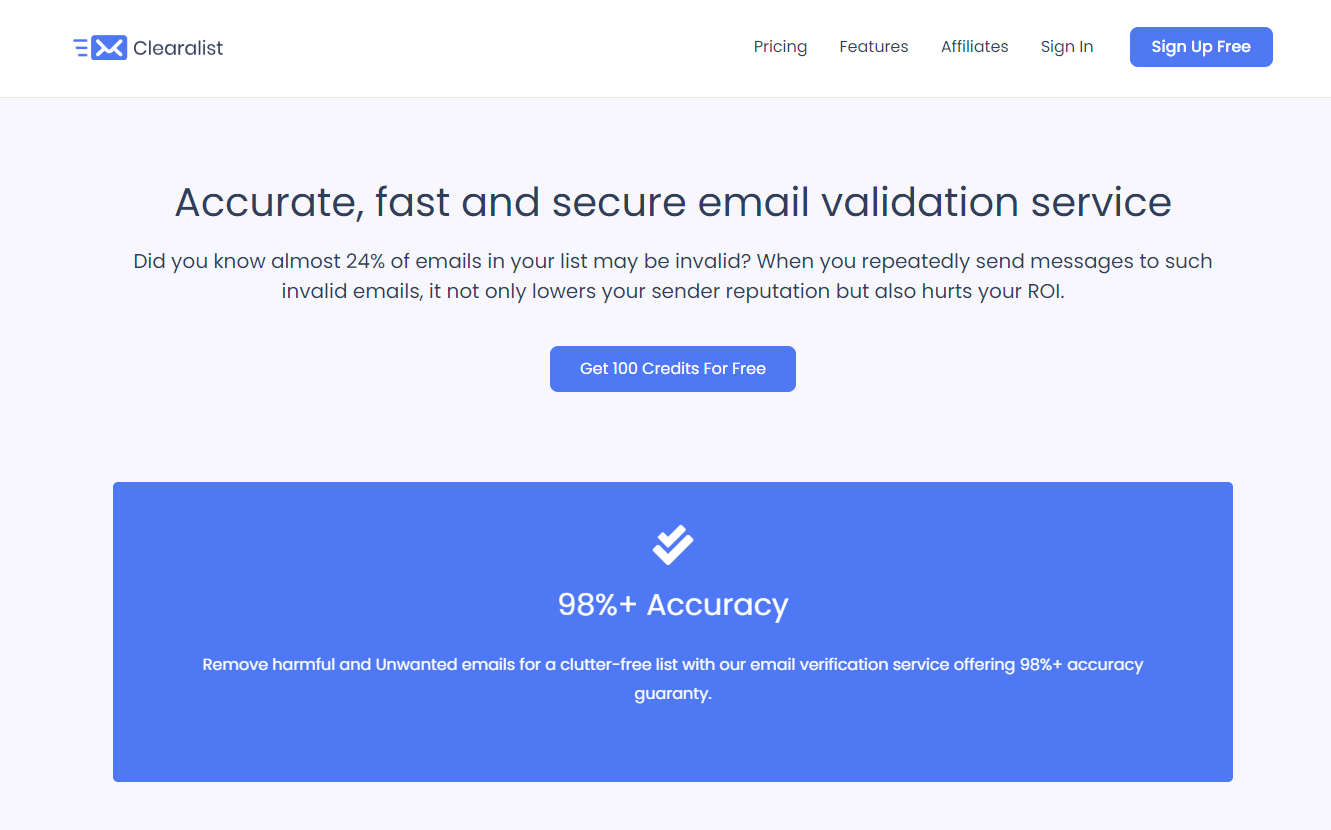 Additional Features
Syntax Validation
Duplicate Remover
SMTP Validation
MX Record Validation
Catch-All Verification
Parallel Domain Analysis
Parallel Email Cleaning (10x faster than any conventional method with twice the accuracy)
Most Dedicated Support Team
3. Email Checker – Email List Cleaning Tool
Email Checker is amongst the web's longest-running email checking services and one of the excellent robust plus accurate email verification services in the marketplace. They have various tiers of service, offering something to fit all budgets.
Email Checker presents high levels of knowledge and experience which combined with its robust and dedicated server infrastructure, gives customers unique email verification. Email Checker influences the industry, with detailed integration documentation for Python, Java, PHP, and C#.
List Cleaning & Verification
Their service is strengthened up 24/7 by a professional support team who contribute their experience and expertise via a dedicated Helpdesk. Subscriptions and pay-per-use will both present an email validation platform that guarantees email addresses are accurate and checked in all circumstances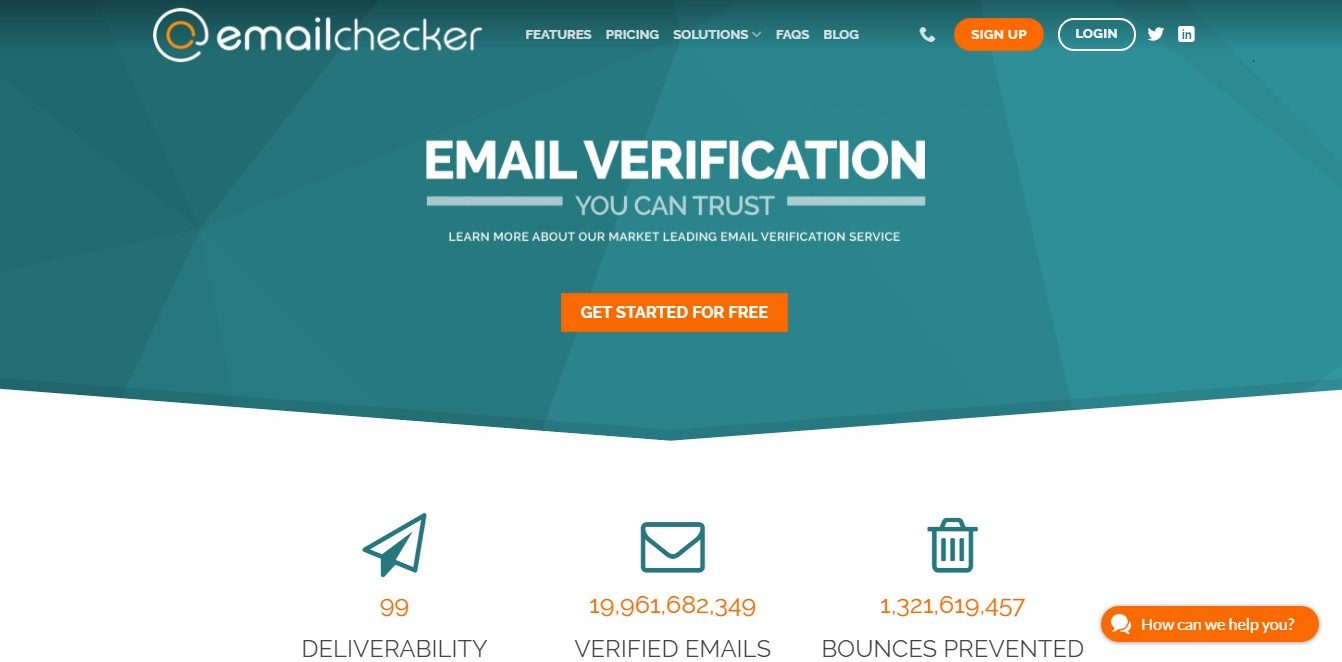 Here are some of the important features their services has to offer:-
Various Integrations: The email Checker tool provides different integration that allows for multiple customer demands – like automated batch file submission, FTP account access, retrieval using batch API, and also manual upload.
Bulk API System: Batch API service designed from the ground up, for quick batch processing of large B2B lists (up to one million email confirmations per day).
Dashboard: It gives Drag & drop interface, user-friendly access.
API Responsiveness: Secure API with market-leading uptime and SLA – 99.97% in the past twelve months
Documentation: Complete documented with lots of code examples, hosting in GitHub.
Yahoo verification: Email checker allows "extreme" Yahoo (& Email) options in their real-time API, for tremendous possible accuracy.
EmailChecker additionally have a specialist batch API service for checking high volumes of B2B email addresses at extremely competitive prices, if this is of concern to you then contact their sales team at [email protected]
4. Xverify – Intelligent Email List Cleaning
Xverify – They are the perfect enterprise leader in the email list cleaning space. What makes them different, is that you can call and speak directly with an email consultant instantly. Being that they are EU Privacy Shield Certified and located in the US, you can trust them to securely and accurately clean your data. Be careful about sending your data to other providers that don't meet these criteria.
Furthermore, It has Approved by EU-U.S. PRIVACY SHIELD FRAMEWORK and SWISS-U.S. PRIVACY SHIELD FRAMEWORK. It also presents DPA's (Data Processing Addendum) to all clients who need them as part of their GDPR Compliance.
List Cleaning & Verification
Simultaneously with verifying if an email is deliverable (will not hard bounce); they will also check for high-risk emails, complainers, disposable emails, roll-based accounts, emails linked to online fraud, and various other risky emails that can adversely affect deliverability. No other provider gives this level of detail.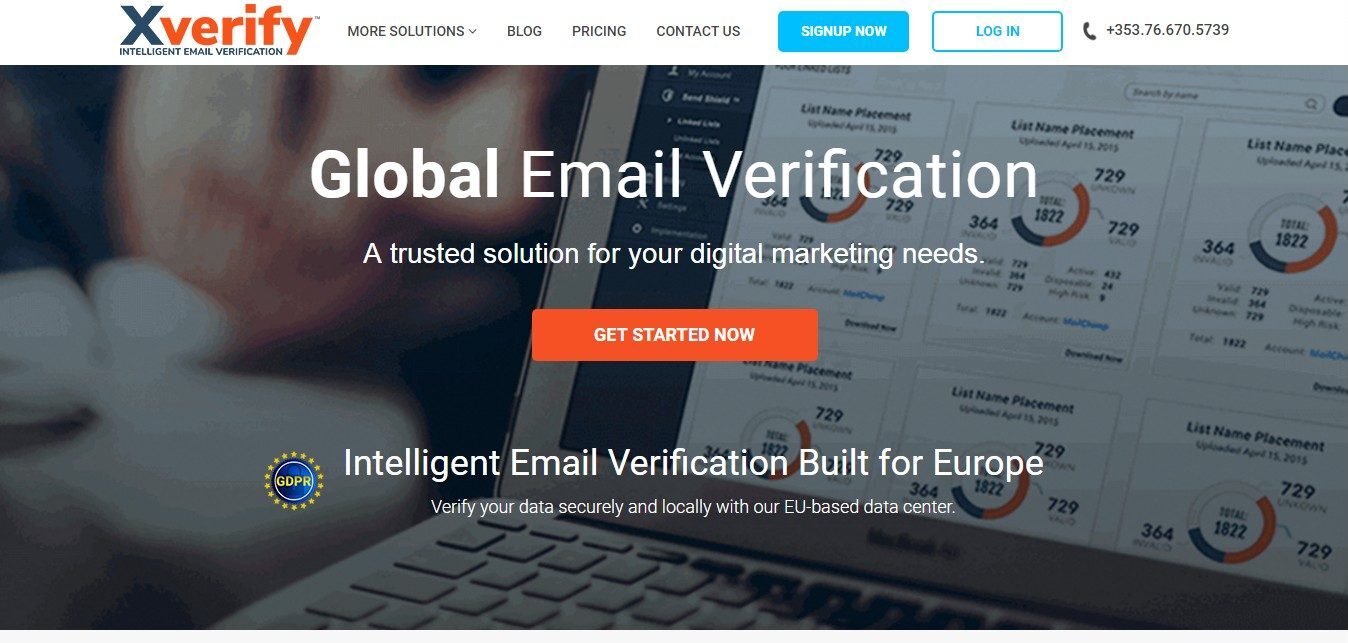 It is one of the best and affordable and accurate self-service Email List Verification service providers, QuickEmailVerification has within its clients' small businesses to Fortune 500 companies. It allows bulk email list cleaning (no matter how big the size) as well as real-time verification with its important REST API. This interface is fully mixed with all major ESPs. This integration not only does the process easier but also fully secure.
List Cleaning & Verification
QuickEmailVerification is remarkably quick: some 100,000 email addresses can be accurately processed in about 60 minutes or even shorter. You don't require to download any software whatsoever. Rather, you have an easy-to-use interface to do everything for you.
Moreover, it offers 24/7 support that has fully satisfied 35k businesses the world over. Finally, its efficiency of more than 97% makes it the top email verification service provider.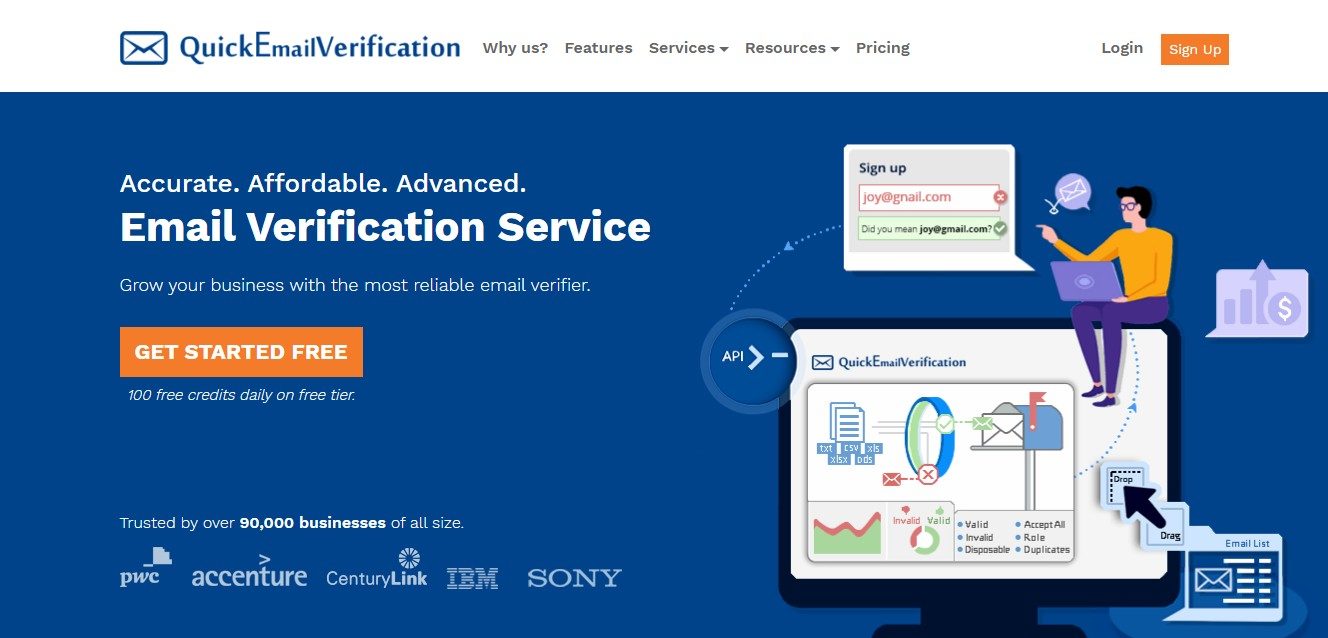 You May Also Read This-