Email Marketing in itself is very costly, but failing to reach your desired customers is costlier and risky as well. Avoiding a bad reputation especially in the online modern world. To solve this problem, you need to use a system that will not only deliver well but also offers good service 24/7 without sacrificing your budget.
Here is a manually collected list of some of the best & cheapest bulk email verification services/tools online to verify your email list and allows you to improve the email deliverability rate like a pro. We have listed some of the best & cheapest email verification services in this article here.
1. Clearalist – Bulk Email Verification & List Cleaning Service
Clearalist – Bulk Email Verifier guarantee the most precise result as they clean the entire list manually. This service will reduce your bounce rate by removing all invalid & duplicate email addresses from your list. Clearalist is one of the best email list cleaning service providers.
Clearalist is indeed the most affordable & cheapest bulk email verification service provider in the industry.
Clearalist email scrubbing service validates the entire list via Message Transfer Agents(MTA) to verify whether it has an MX-checker to track domains or not. Further, it also eliminates all spam records through Intelligent Spam-Trap Indicators. This service begins with anti-greylisting technology that guarantees more accurate results by securing your list from spammers.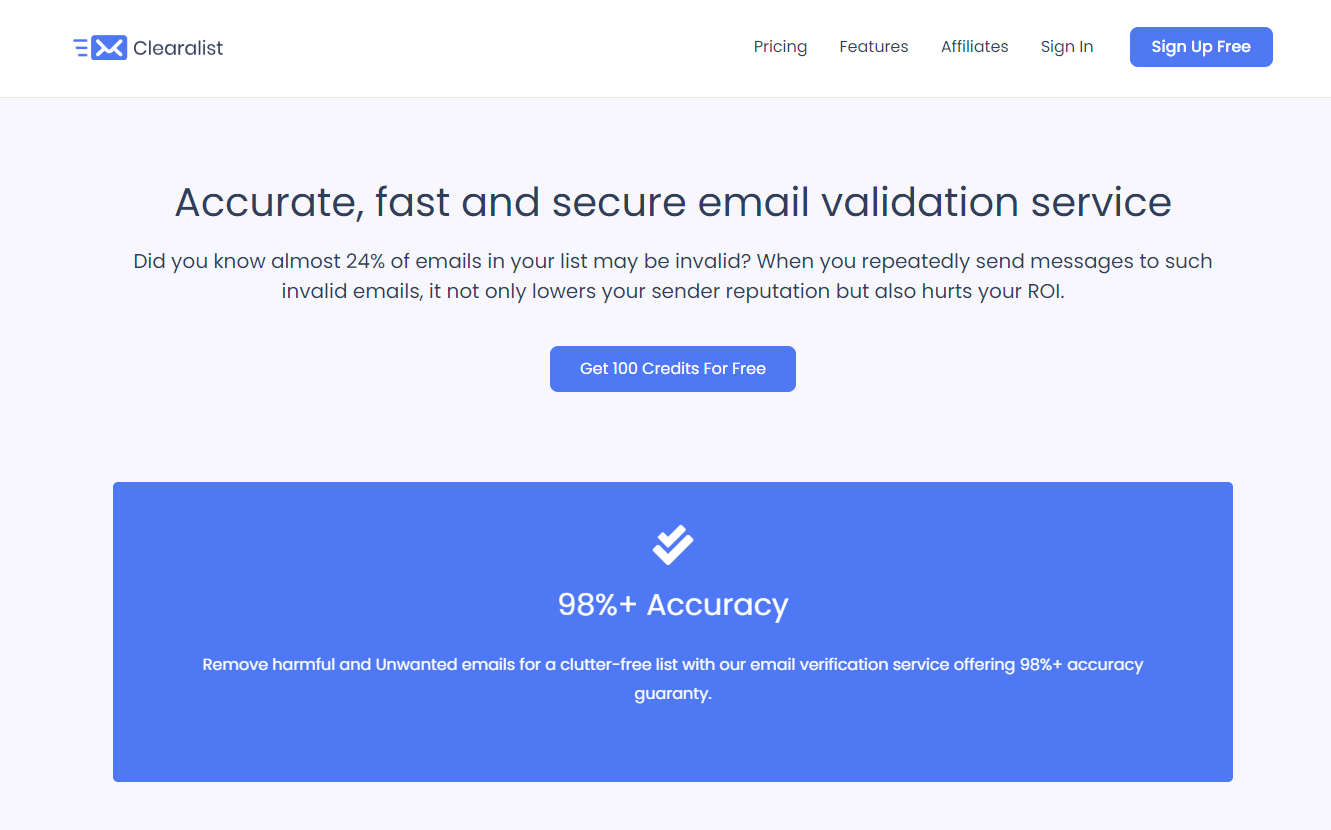 Clearalist gives you free testing credits (Free Trial for 100 Emails). The minimum order value is $12.
5 for 2500 verifications. The credit never expires. Also, check out
Lifetime Deals Of Clearalist
or See our
pricing plans here
.

For Further Pricing & Plans, Please Visit – Clearalist Bulk Email Verifier
2. Clearout – Email Validation & Verification Service
Clearout is a great tool to validate emails, user can test single emails and bulk files. The price policy is very flexible. The design is very modern and instinctive, rarely users will need to seek help, but if they do there is 24/7 support of specialists and extensive documentation that can answer all questions. Old users will be happy to see that there is an API that can be easily combined with any programming language.
Email Verification
Clean email lists, high deliverability rates, and a high sender reputation are the advantages that you, as a mailing list sender, can acquire from validating subscriber lists.
List cleaning & email verification helps in reducing the bounce rate and reaching the target inbox with managing your reputation.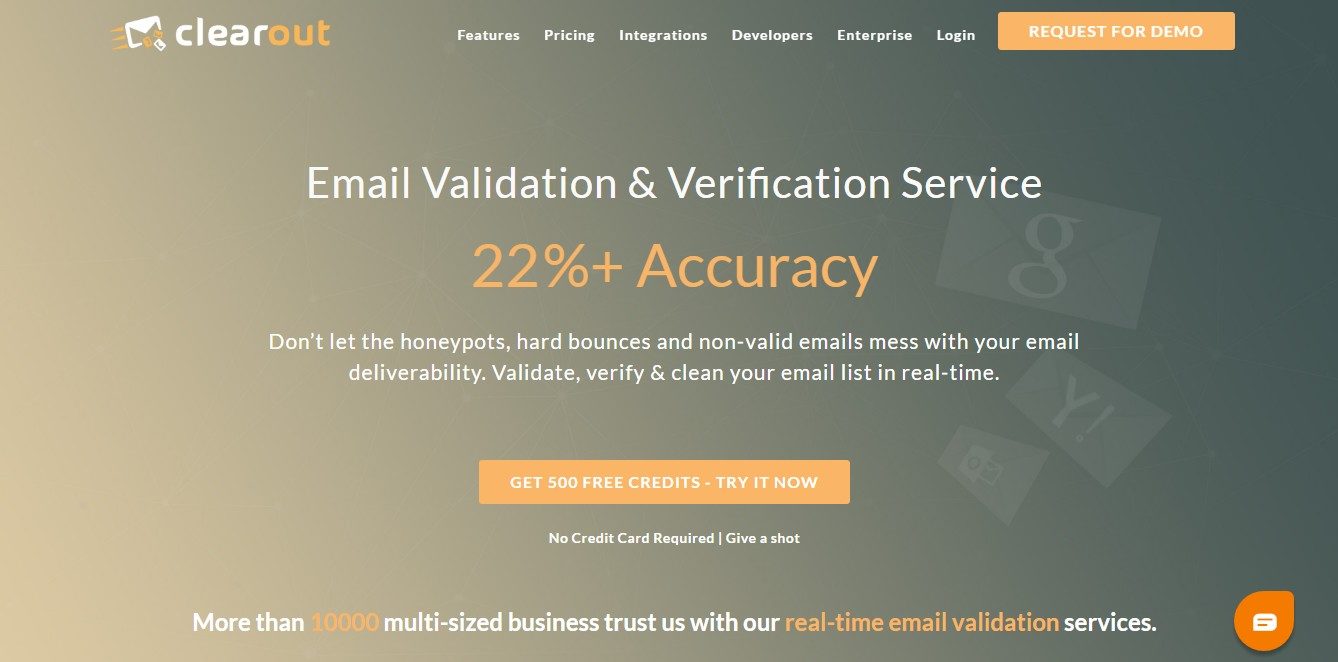 For Pricing & Plans, Please Visit – Clearout Bulk Email Verification Service
3. DeBounce – Free Email Verification API
DeBounce allows you to improve your email marketing campaigns by building an email list of valid email addresses only. You just have to upload your email list and get it verified right away.
For email list validations, DeBounce utilizes an ESP integration as well as Batch Verification and Real-Time APIs. While testing your email list, you simply need to choose an integration to use. DeBounce appears quite simple and is less intricate.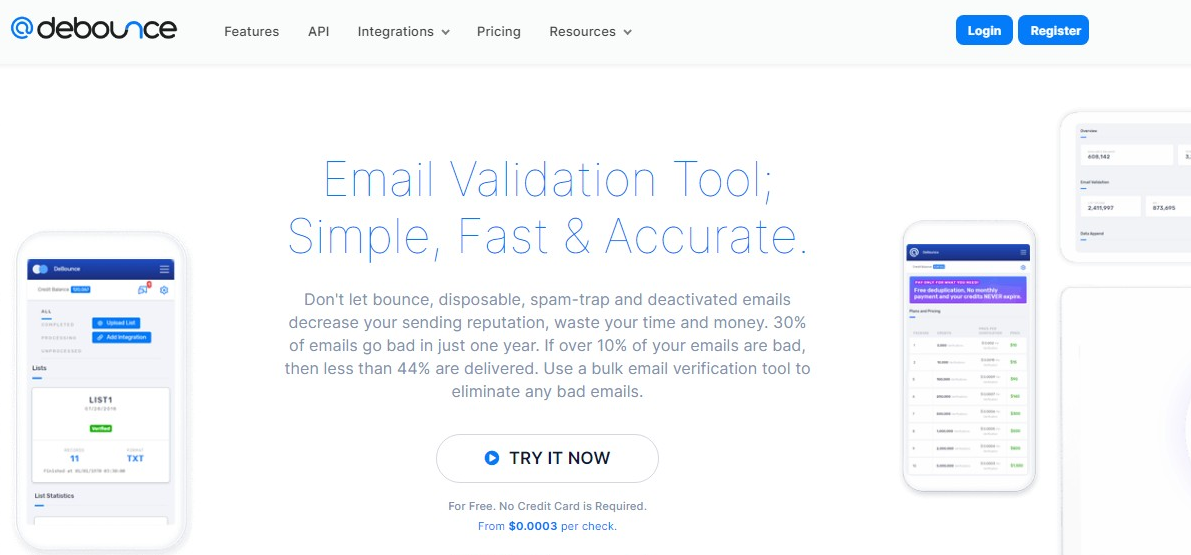 For Pricing & Plans, Please Visit – DeBounce Bulk Email Verification Tool
4.
Voilanorbert
– Email Validation Tool
Voilanorbert is, without a doubt, one of the most successful names on this list. Their bulk email verification system is as efficient as all its other tools and services.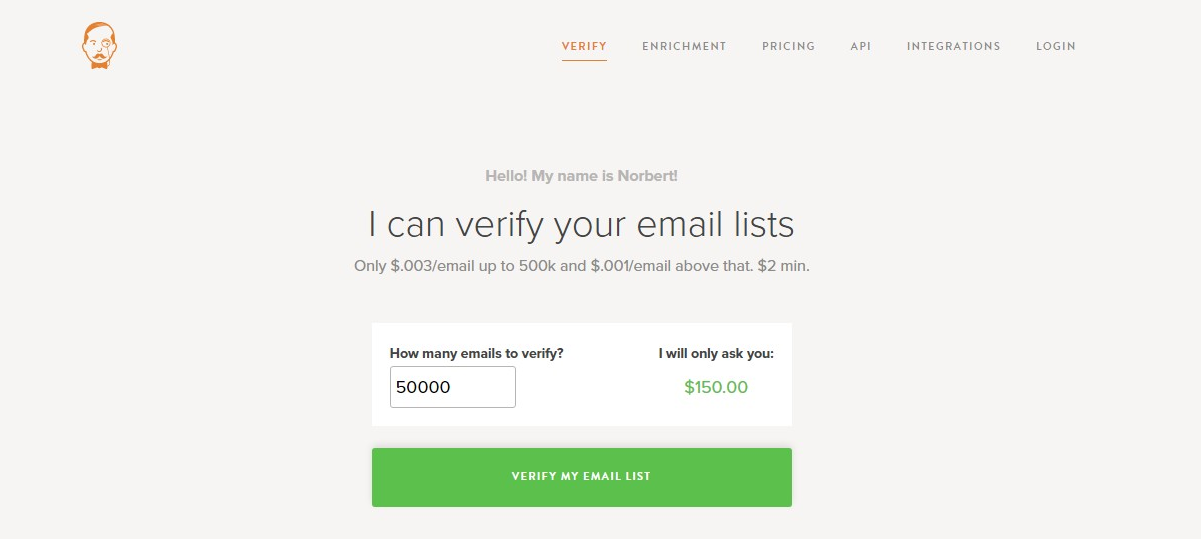 For Pricing & Plans, Please Visit – Voilanorbert Email List Verification Tool
5. Mailfloss – Bulk Email Verification
Mailfloss is one of the finest email verification tools that integrate with a large number of email marketing service providers and allows you to verify your email list in bulk.
It's centered on automating the process of email verification, so you can focus on your company. It sustains a wide variety of email providers such as MailChimp, Drip, ConvertKit, Sendinblue, Mailerlite, etc.
Mailfloss identifies invalid addresses, temporary emails, duplicate emails, and spam traps. It also separates emails with hard bounces and validates syntax errors.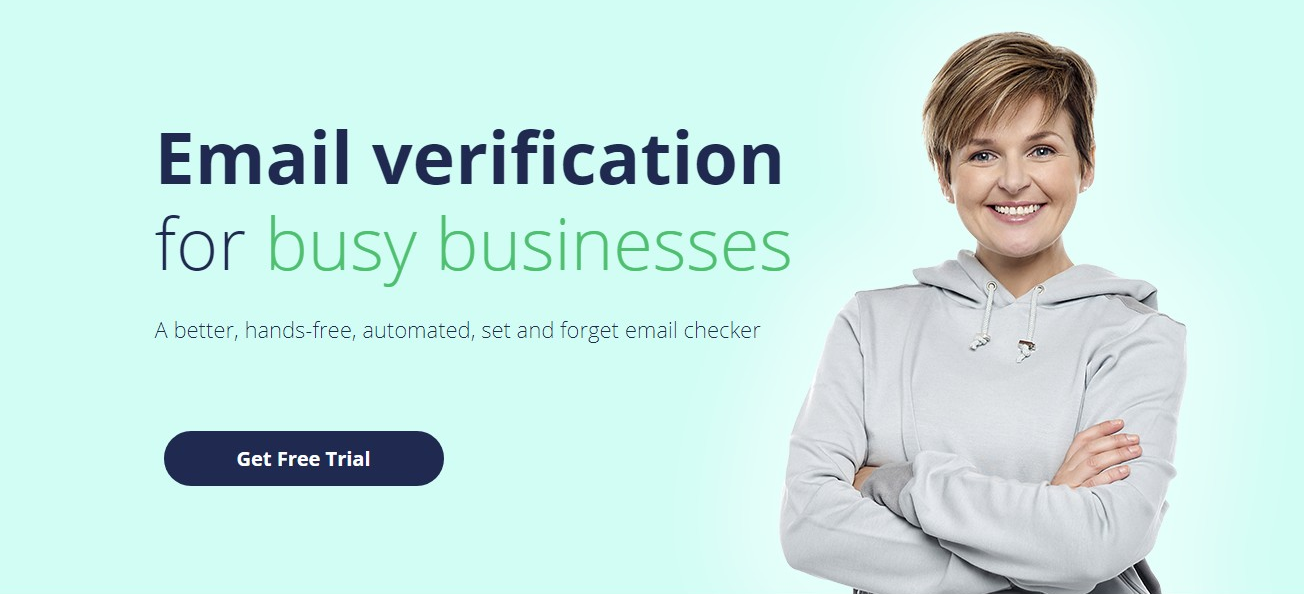 For Pricing & Plans, Please Visit – Mailfloss Email Cleaning Service 
6. XVerify – Verify Email List
XVerify has placed itself as a definite leader in the email verification space. Considering they are located in the US and have over 7 years of experience in the space, you will not find a more trusted provider to verify your emails.
Xverify lets clients request a Data Processing Addendum as a portion of their GDPR Compliance.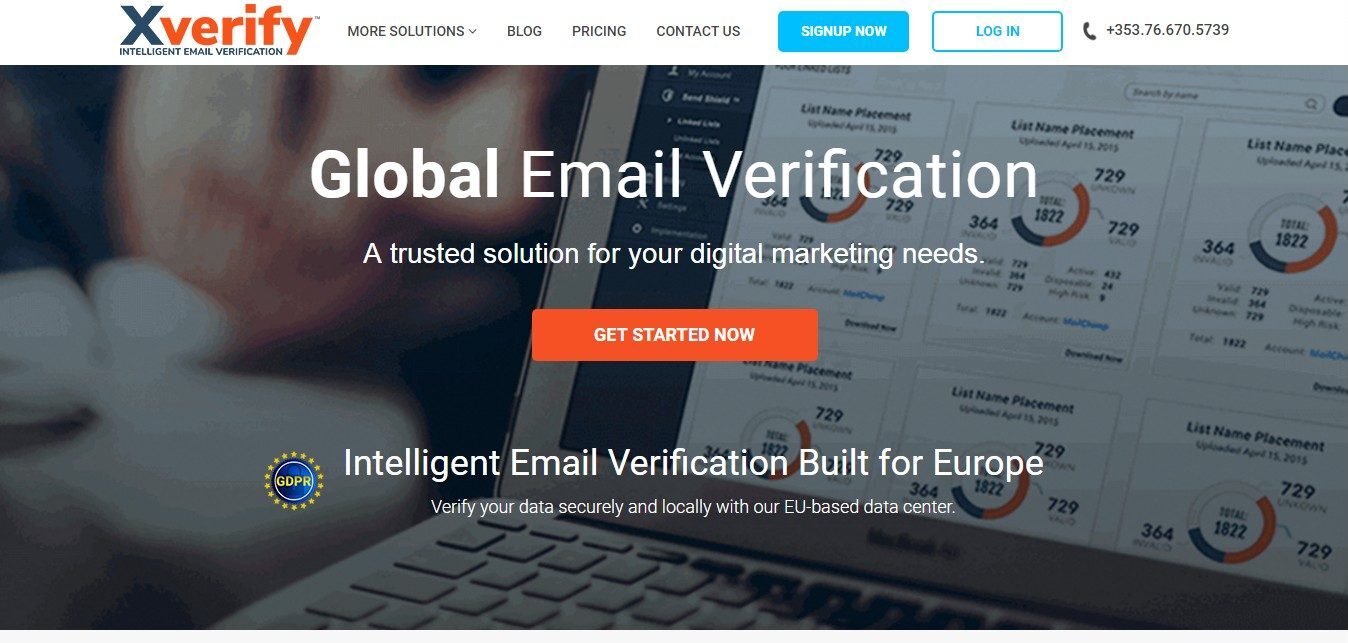 For Pricing & Plans, Please Visit – XVerify Email Verification Tool
7.
Snovio
– Email Finder & Checker Tool
Snovio is one of the best email verification services. This tool aims at parting poor-quality email addresses from the high-quality ones in your email marketing list.
Snovio helps most companies solve one of the biggest challenges in email marketing: the maintenance of lists. By easily uploading your email list, Snovio will do the work of classifying the undeliverable, deliverable, unknown, or risky addresses.

For Pricing & Plans, Please Visit – Snov.io Email Checker Service
8. Email List Verify – List Cleaning & Verification Service
This email verification service includes the domain and syntax validation, dismissal of spam-trap emails (that cannot get incoming messages), risky email cautions, MTA validation (advanced Mail Transfer Agent technology), MX records validation (mail exchange servers check).
Email List Verify has a simple interface. You can get real-time email bounce stats.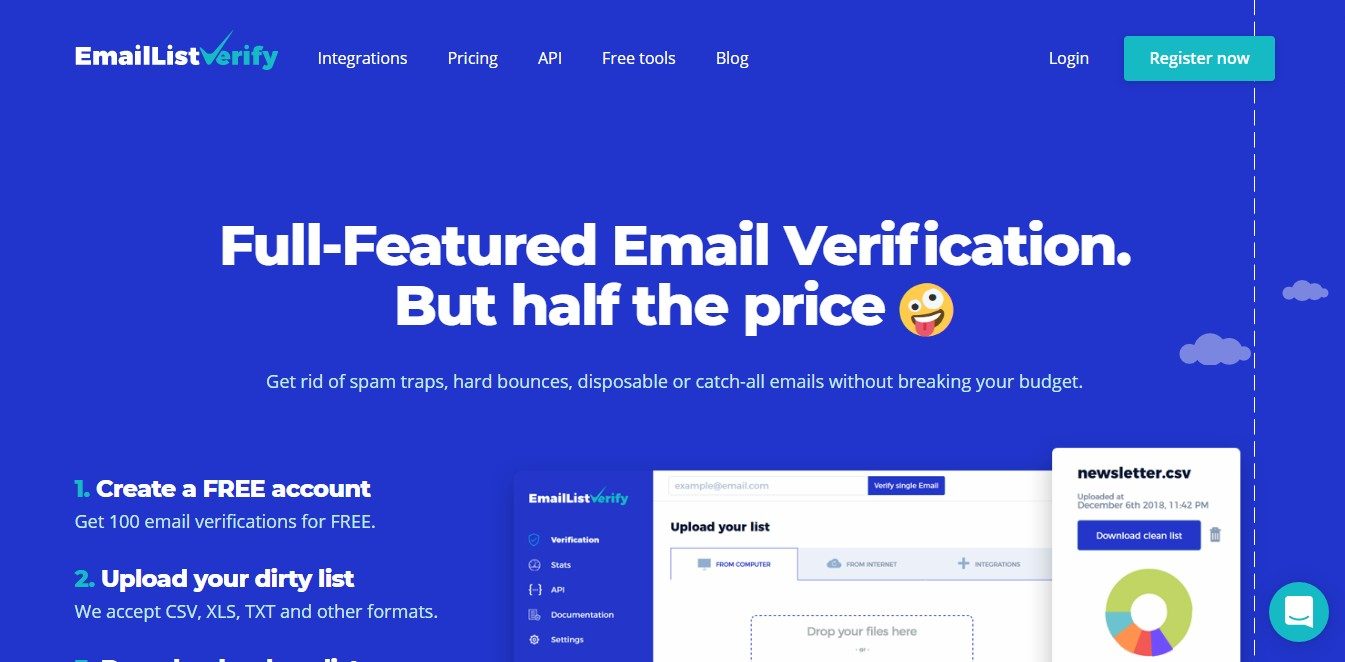 For Pricing & Plans, Pleases Visit – Email List Verify Email List Verification Service
If you have to verify email lists constantly and your email marketing campaign depends on it, the Email List Validation service has all you require. You can do bulk verification addresses at the best price. The service will remove duplicates, invalid and spam-trap emails, flag risky or suspicious emails, etc. You can pick the plan which fits your budget.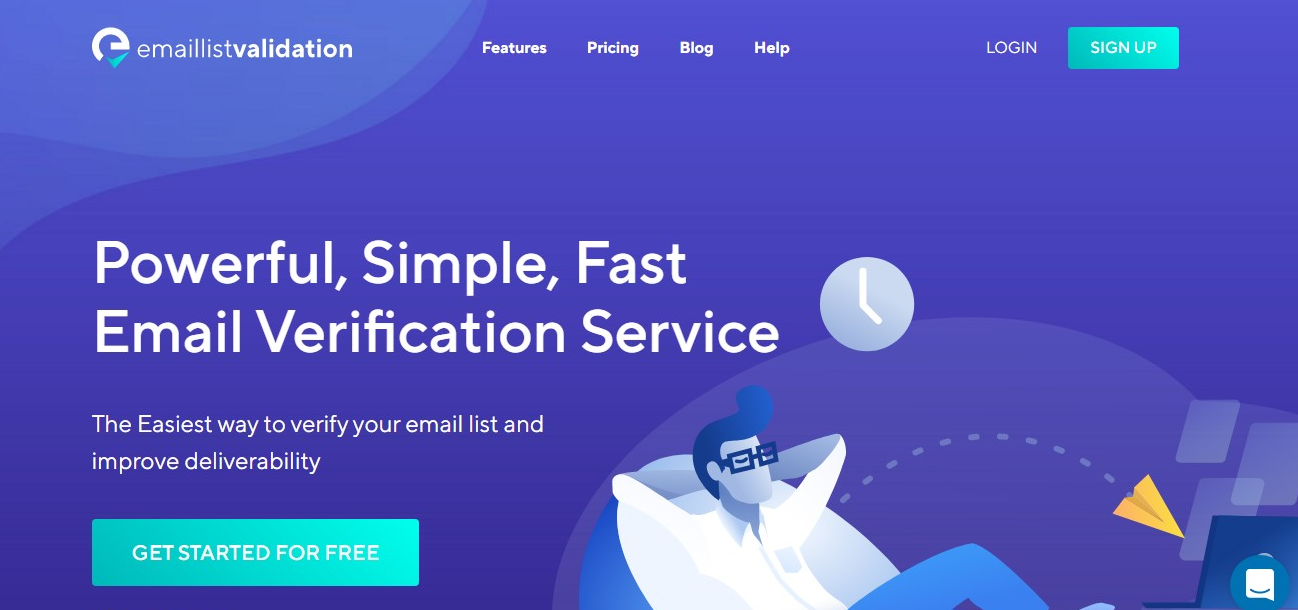 For Pricing & Plans, Please Visit – Email List Validation Verification Service
10. Verifalia – Bulk Email Verifier
Verifalia is an Italian service that offers a strong and basic verifying service. It uses for bulk email address verification by using a DNS check, MX test, syntax validation, etc. In this case, you can get benefit from real-time verification. A particular aspect to add about Verifalia is that you can upload only .txt files with emails in separate lines.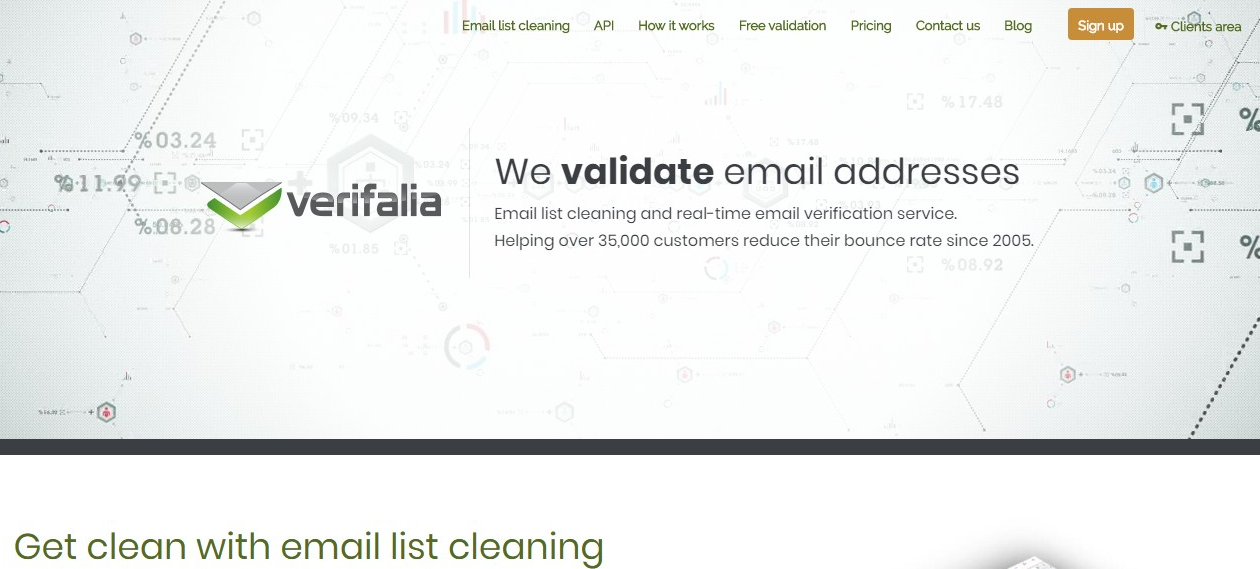 For Pricing & Plans, Pleases Visit – Verifalia Email Address Checker
Conclusion –
The above-mentioned email verification service providers are some of the free or lost-cost bulk email verification tools. However, it's up to you to choose the services that best meet your email marketing campaign needs and your budget but I recommend seeing the pricing of the Clearalist Bulk Email Verifier first.