These days, to have a clean list means tons to your email campaign. Moreover, Improvement associated with an email list may be a method to visualize out whether or not the list of email addresses is valid/deliverable or not. So to clean an email list properly you just need great email list cleaning software.
Best Email List Cleaning Service
Email Marketing Services is now accepting the third party for maintaining list cleanliness. These third parties are email list cleaning services providers or email checker applications that offer many alternatives for the maintenance of a reliable contact list.
Clearalist email list cleaning software and verification service provider satisfies up all sorts of business firms and marketers. They have presented an easy-to-use list validating functionality in which you simply upload a bulk email list, click on the clean list button and get your list scrubbed.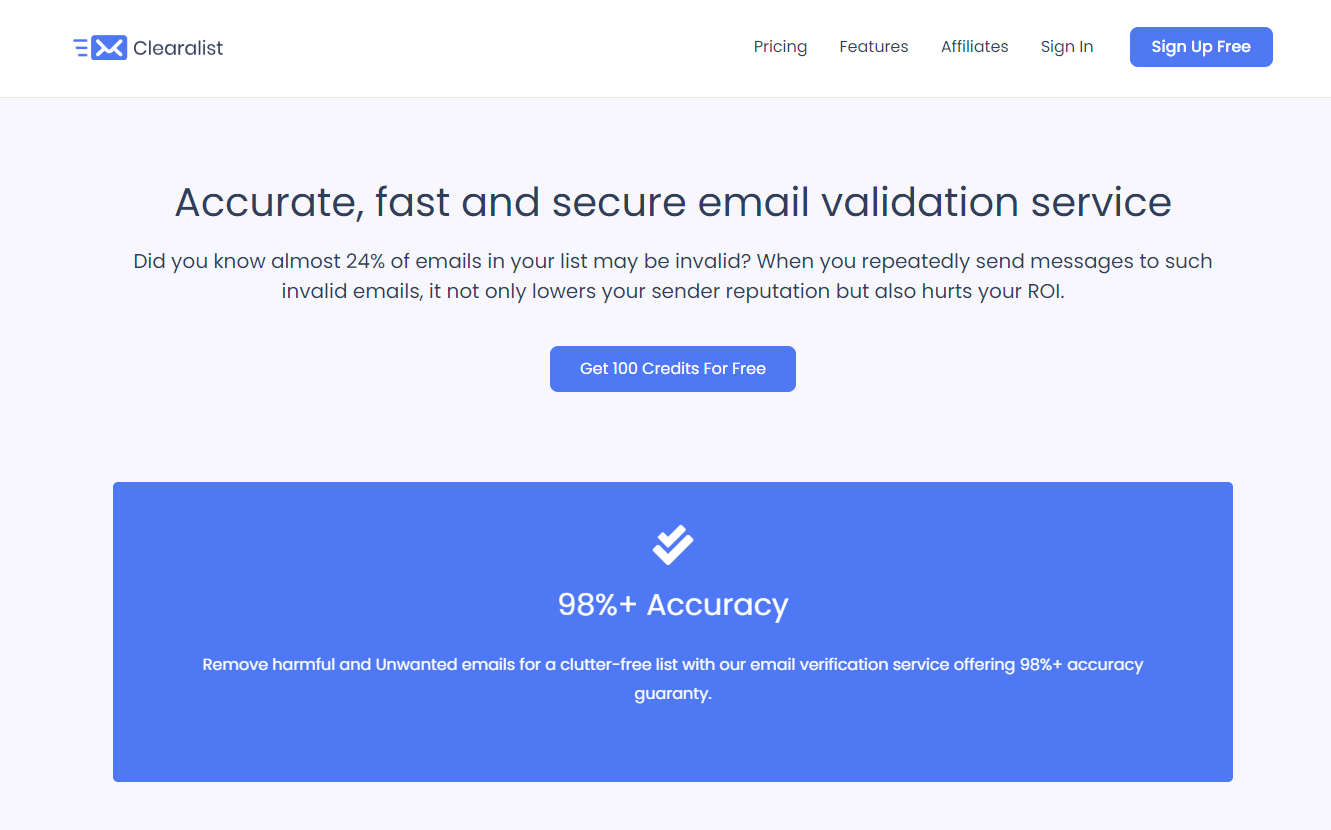 Clearalist Email List Cleaning Service has many added features that are used for list cleansing purposes, which are given by only a few email marketing software providers. Also, there are various types of clean segments on which software works and these are spam lists, suspended lists, and bounce lists.
It gives a very efficient, reliable, and robust inbuilt cleanup mechanism that helps to manage email list hygiene and cleans your contact list from bad, spam, and syntax error emails.
Furthermore, it automatically checks and validates your contact list by checking through MX validator, domain validator, DEA checker, email checker, etc.



Where can I find an email validation service that has over 95% accuracy?
Our Email Verification service can accomplish all verification needs with 98% accuracy quickly, easily, and automatically. Clearalist software is easy to use the endpoint, which enables you to check email addresses with the highest validation accuracy.
Amazing Features:
Clearalist email list cleaning service provides built-in greylisting email verification and list cleaning service, it also protects you from any spam emails from the list and gives you 100% genuine emails. First, it automatically filters the spammers and eliminates them from the list.

The clearalist email checker tool gives you a suppression list cleaning service that gets a list of emails from those who are unsubscribing to your emails. So, this will help you to send emails to engaged customers only.

Clearalist Mail exchanger records confirm the mail server which is allowing the email messages and this will give you a valid email list.

Also, it excludes all the duplicate email addresses from the list and protects costs.

Furthermore, Clearalist List Cleaning Service allows you to verify emails for Free.
Additional Features
Syntax Validation
Duplicate Remover
SMTP Validation
MX Record Validation
Catch-All Verification
Parallel Domain Analysis
Parallel Email Cleaning (10x faster than any conventional method with twice the accuracy)
Most Dedicated Support Team
Clearalist Bulk Email Verifier Pricing –
Free Trial for 100 Emails
$12.5 for 2500 Emails
$22.5 for 5000 Emails
$40 for 10000 Emails
$87.5 for 25000 Emails
$150 for 50K Emails
$250 for 100K Emails
$500 for 250K Emails
$750 for 500K Emails
$1,000 for 1M Emails
Clearalist email list cleansing service gives you free testing credits. The minimum order value is $5 for 2500 verifications. The credit never expires.
For More Pricing & Plans, Click Here
You May Also Read This –