Does it get devastating to do all the email validation and list cleaning? Do you find it difficult to manage your email lists? 
Confused? Email deliverability failure is one of the most common causes of losing out on hot leads as it is also the most ignored one. Such a circumstance arises when the intended email lands up in the Spam folder and not in the subscriber's inbox.
This is where the greatness of Email List Cleaning comes in. You'd not give this bit much recognition, but it's quite a big deal. As a content marketer, you'd have heard of the Content is the King? Nevertheless, for an email marketer, your brand's reputation is the King. In such situations, it is your mailing list that needs to be cleaned since a poor-quality email list can leave a bad impression on your sender's reputation. 
But how do you distinguish a clean email list? Well, in most cases, a good or a clean email is the identity that has interacted with you at least once in the last few months. You must maintain a clean email list because of two big causes Spam Traps and Unengaged users. An excellent way to make it possible is by using email list cleaning tools. 
ISPs are always looking out for spam emails and making sure that the sender has got the right to be in their receiver's inbox. If the sender is not authorized to be in the inbox, they are sent straight to SPAM which alters the sender's reputation. The second reason- engaging with unengaged users, well that's like intentionally landing up in their spam and wasting your time trying to get their attention because that's never going to happen! We will assist you to explain how to clean the email list/scrub an email list online. 
Let's see why anybody would require a product like the ones we're going to explain here:
Validation: 

It is always important to know that the work you're doing is worth the effort. Imagine sending a wonderful email to hundreds of people every day, only to find that most of them did not get them or half of the email identities you used did not exist in the first place! It's always excellent to have your work verified before you start expecting the results- helps run things on track without any differences on the way.
Increased Leads: 

Once the right people start noticing and viewing your content on their email, they are going to pay attention to you, which is excellent for your business! Because at some point, you're going to build a brand recall value for your business and they'd be reaching out to you for whatever it is that you're giving to them. Once you've got the right target audience giving you stuff, half your match is already won, You can do it by

email verification and list cleaning

 services. 
Improved Performance:

 Once you know you've been transferring your emails to the right people, it would mean that those emails are landing up in their inboxes. And this is exceptional because the first step of the way is already accomplished by making sure that the message has been delivered to the right person and at the right place. There are tons of 

email list cleaning tools

 that can make it happen. 
Visible Results:

 Getting hot leads fast and regularly will have your numbers sharing up in almost no time. Visible results are what is going to take you ahead in business and help you make a mark in the industry- this is why doing the right thing at the right time is important. The result is what makes business but it's what you're doing to get there that matters the most.
Now that we've gone through how important it is to have a clean Email List, let's get onto knowing a bit about the different email cleaning services that we have available. Because hey, you don't always want to do all of your work by yourself.
1. Clearalist – Bulk Email List Cleaning Service
Clearalist email list cleaning and email validation services provider satisfies up all sorts of business firms and marketers. They have presented an easy-to-use list validating functionality in which you simply upload a bulk email list, click on the clean list button and get your list cleaned.
Clearalist has many added features that are used for list cleansing and email validation purposes, which are given by only a few email marketing software providers. Also, there are various types of clean segments on which software works and these are spam list, suspended list, and bounce list.
It gives a very efficient, reliable, and robust inbuilt cleanup mechanism that helps to manage email list hygiene and cleans your contact list from bad, spam, and syntax error emails.
Furthermore, it automatically checks and validates your contact list by checking through MX validator, domain validator, DEA checker, etc.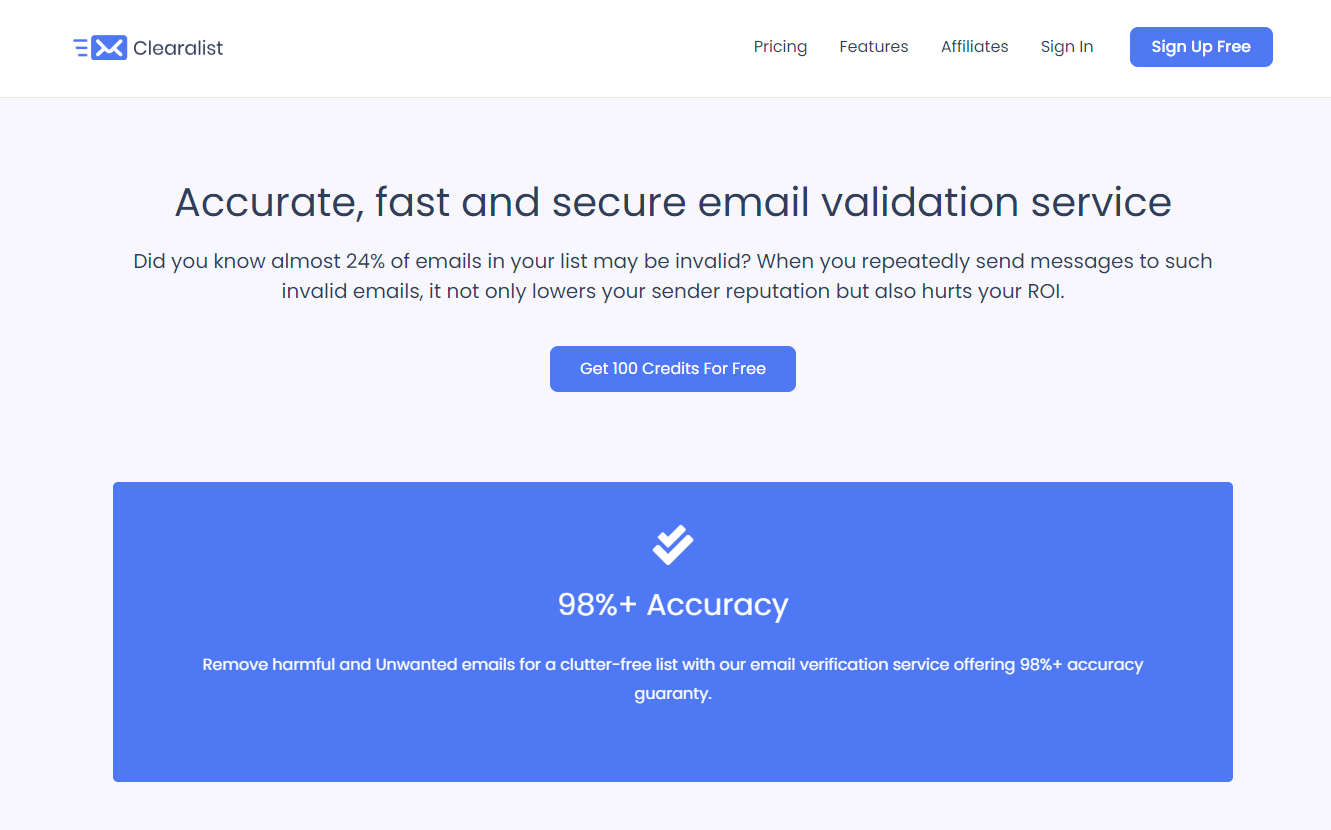 Features:
Clearalist email list cleaning service provides built-in greylisting email verification and list cleaning service, it also protects any spam emails from the list and gives you

100% genuine emails.

First, it automatically filters the spammers and eliminates them from the list.
Clearalist email list cleaning tool gives you a suppression list cleaning service which gets a list of emails those who are unsubscribing to your emails. So, this will helps you to send emails to engaged customers only.
Clearalist Mail exchanger records confirm the mail server which is allowing the email messages and this will give you a valid email list.
Also, it excludes all the duplicate email addresses from the list and protects costs.
Additional Features
Syntax Validation
Duplicate Remover
SMTP Validation
MX Record Validation
Catch-All Verification
Parallel Domain Analysis
Parallel Email Cleaning (10x faster than any conventional method with twice the accuracy)
Most Dedicated Support Team
EmailListVerify gives a high assurance that no email on your list receives an unrequested message during the validation process and the results of the entire email validation process are always ready in the Record section.
As a product, they also claim 97% efficiency and 10 times the reduction in bounce rates. To begin working on this product, you can go ahead with their free trial, which asks for no fee at all. As for their pricing model, you can spend as you go and they also have a couple of pricing packages that you can try too.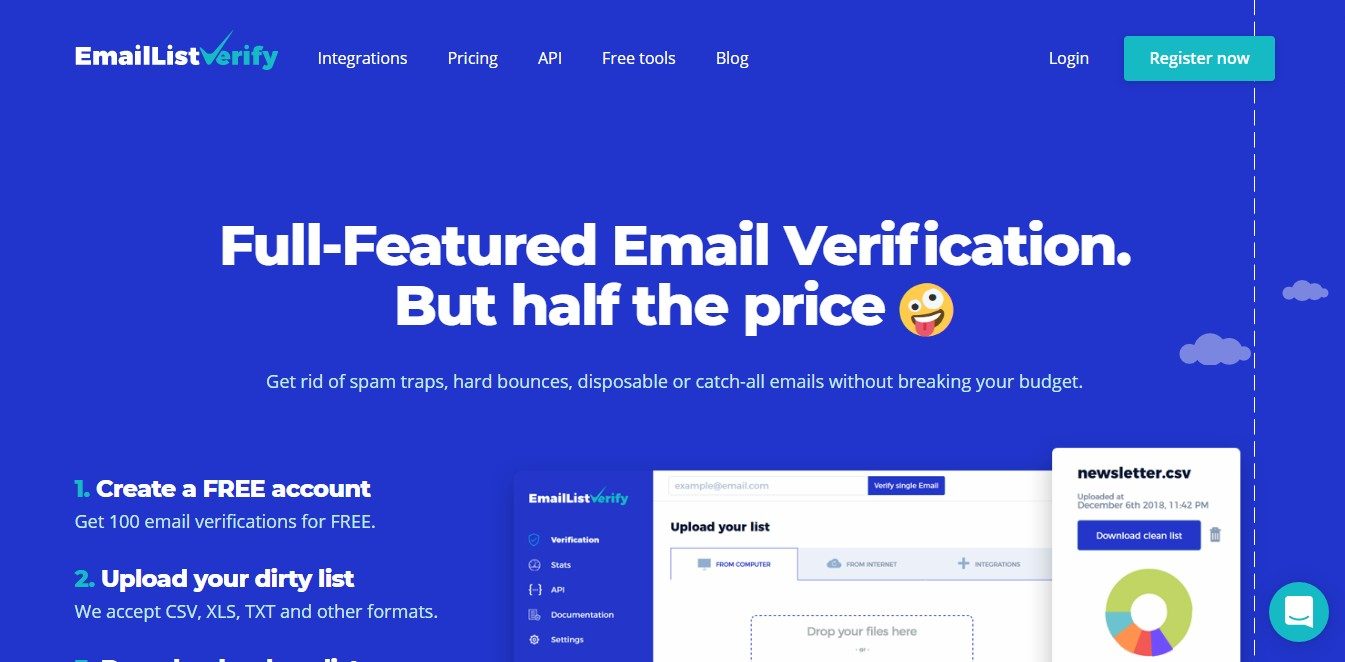 Features:
Spam Trap Removal: 

EmailListVerify guarantees that it clears all records matching their intelligent spam-trap indicators, assuring that your email is sent to valid email Ids and lands in their inboxes solely.

Risk Validator: 

It is very crucial to have such corrections in place as spam detectors have become much more powerful over time. The need to be true with email addresses as well as the content that is sent has become more significant than ever before.

Domain Validation: 

The system runs an immediate check on all the domain names of the email addresses put up for assessment and 

helps identify the invalid/ misspelled/ illogical or fakes ones

. This way you can be sure of who you are sending your emails to.

Complainers Verification:

You comprehend how subscribers often have a complaint that they get countless emails and they can check the same on their system? EmailListVerify runs analysis for all the complainers on the database and gives you an option to eliminate them too to avoid changing them off even more.

Syntax Verification: 

 These are normally hard to point out and identify, but, 

email list verification tools

 like EmailListVerify holds the capability to pick out the syntax error addresses and exclude them immediately from the lists. This particular feature here is very helpful so to say, as these are usually minor errors and are left out even after running various checks.

Real-time Bouncing: 

It covers all email addresses that you may have on the list. Guaranteeing that every single email ID is covered and verified before you send out anything to them is a major deal as sending anything to a wrong email ID, someone who's repellent to your emails could be a major spot on your mailing reputation on the whole.
Furthermore, EmailListverify is a data processor and amongst the popular email list verification tools, so they are qualified to be GDPR compliant.
For Price plans kindly visit EmailListVerify Website
NeverBounce is an email list cleaning service that points out all the spam, bad and invalid Ids from your list and highlights them to be excluded. No matter how large the list, Neverbounce claims to clear any size list without any glitches on the way. 
Basically, there are three simple steps to get the work done:
First, upload your list to the NeverBounce system.
Then, let NeverBounce read and go through the ID's and clean & clear it from scratch
Now, download the clean list before you use it to send out your emails.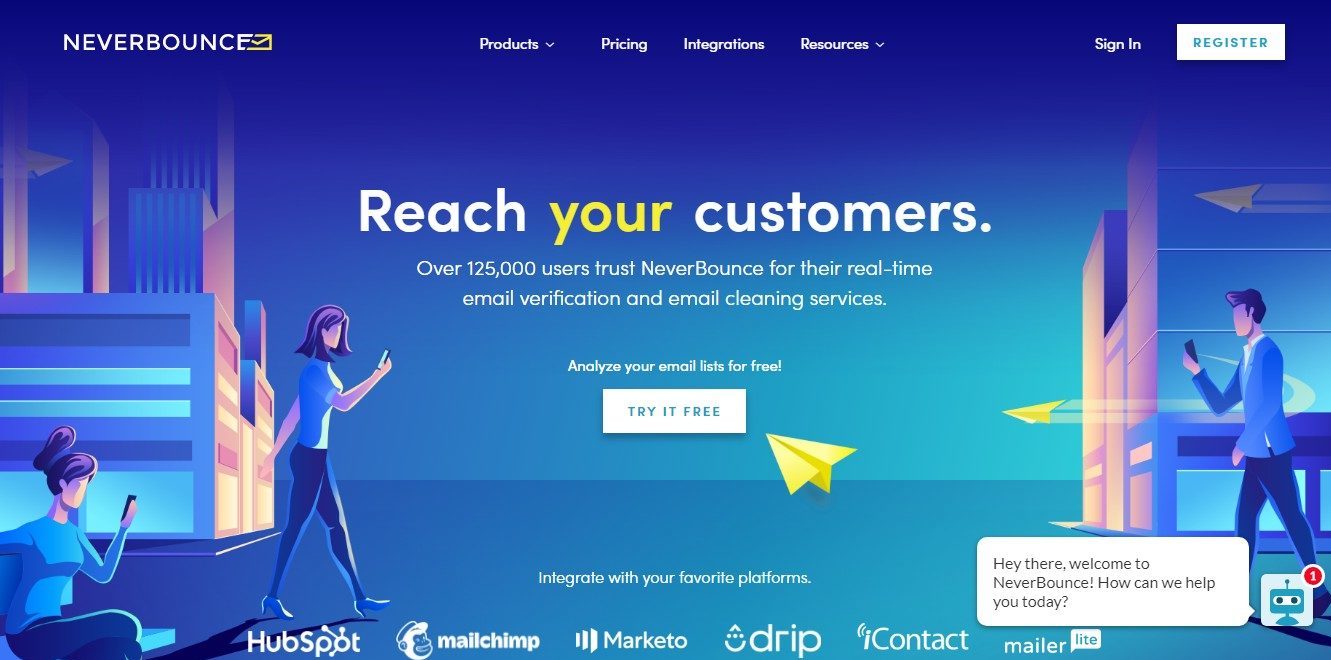 Main Features:
Single Email Verification

Javascript Widget

Human Verification

Result Segmentation

Working with CatchAlls
For Price plans kindly visit NeverBounce Website
Bounceless is perfect for those of you who are suffering from a bad mailing reputation are seeing a steep drop in your ROI, you probably want to clean up your mailing lists right away. And this is where email verification and list cleaning products like Bounceless come into place. With built especially to get rid of hard bounces and provide powerful email lists from scratch until the end, Bounceless can be an excellent choice for your business.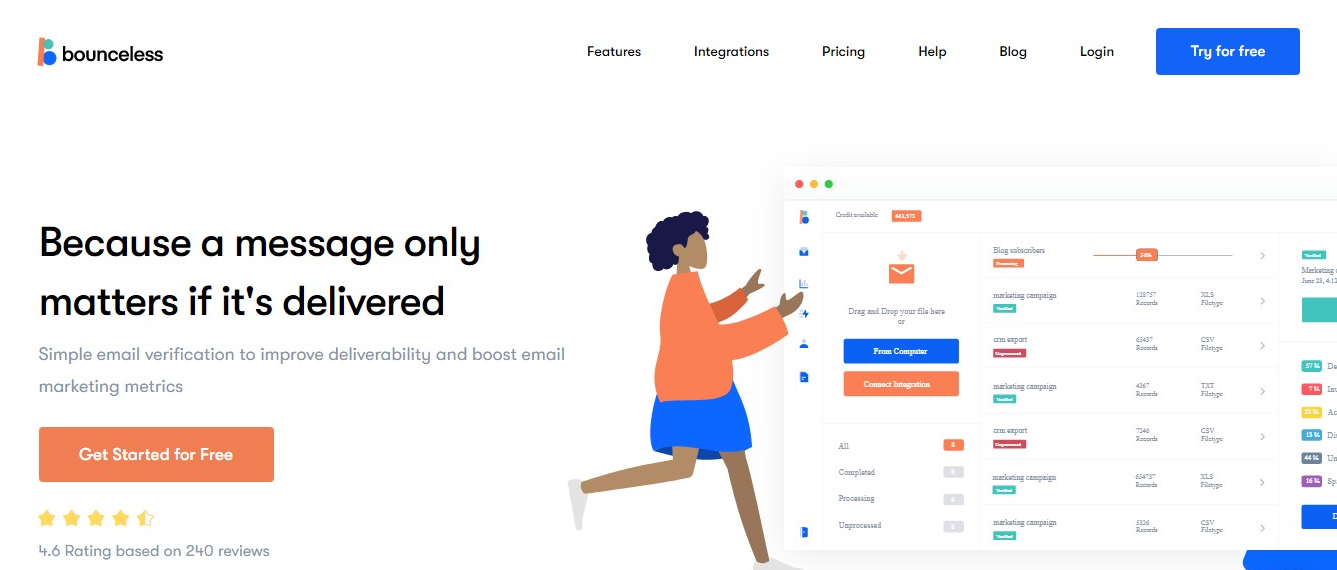 For Price plans kindly visit Bounceless Website
It is another email list verification and email list cleaning tool that offers some really valuable services to its users. DataValidation runs online and lets its users verify as well as clean up their contact lists straightaway by uploading a file onto their system. The product boasts of doing ESP integration or Real-time and Batch verification APIs.
As we all know, a business sending out emails on wrong IDs or even on misspelled, non-existent IDs can be selected as SPAM and picked up by spam filters which do a lot of damage to the business. Because the online reputation on this front can create some serious impact and especially to the newbies who've just come out to make some significant contacts in the industry. No matter what you do online email list cleaning is a necessity for everyone.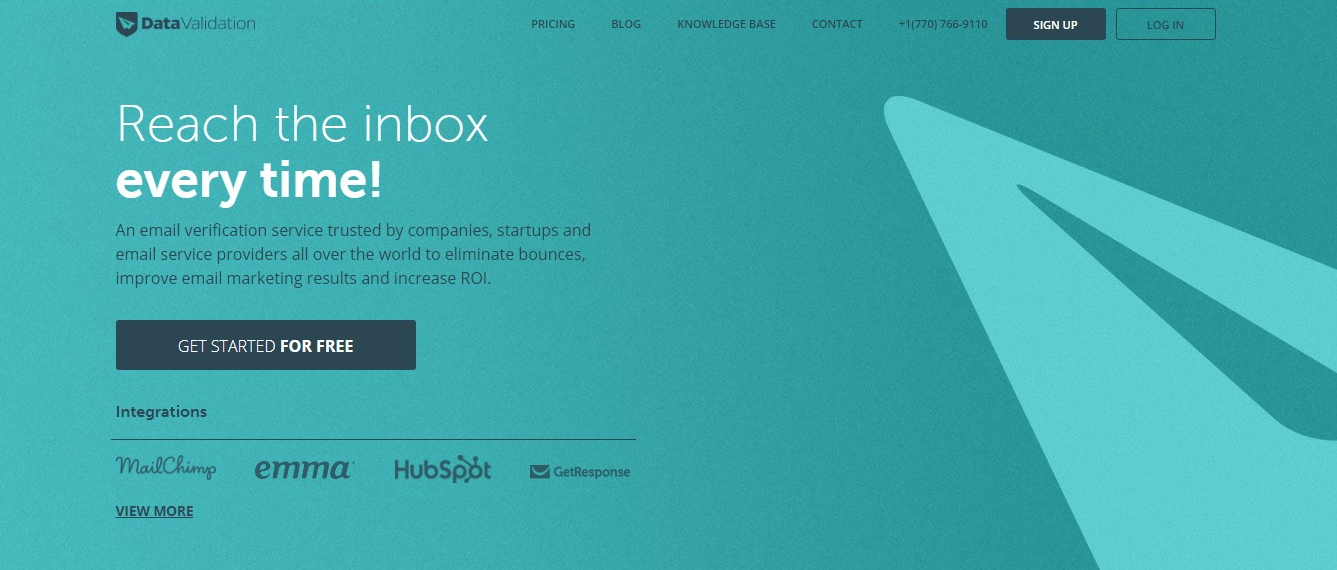 For Price plans kindly visit DataValidation Website
Kickbox has simplified the lives of email marketers, It is one of the great tools for email list cleaning that comes with a range of interesting features. In the business of sending an email and building an agreement with the prospects, it is remarkably important that every small step is delivered with utmost care and completeness.
In the center, a hundred other things that a marketer requires to do to reach out to the right people, emailing critical data on the right email addresses becomes critically significant too. Several times, most businesses tend to lose out on their potential prospects by avoiding out actually landing up in their inboxes. This mistake is often seen amongst startups and newbies who don't realize the value of constantly updating their mailing lists.
Using this tool, you can instantly drag and drop your contacts on the interface to get your contacts verified in a jiffy and validate the email list. You can also verify the email list in bulk by working with this tool.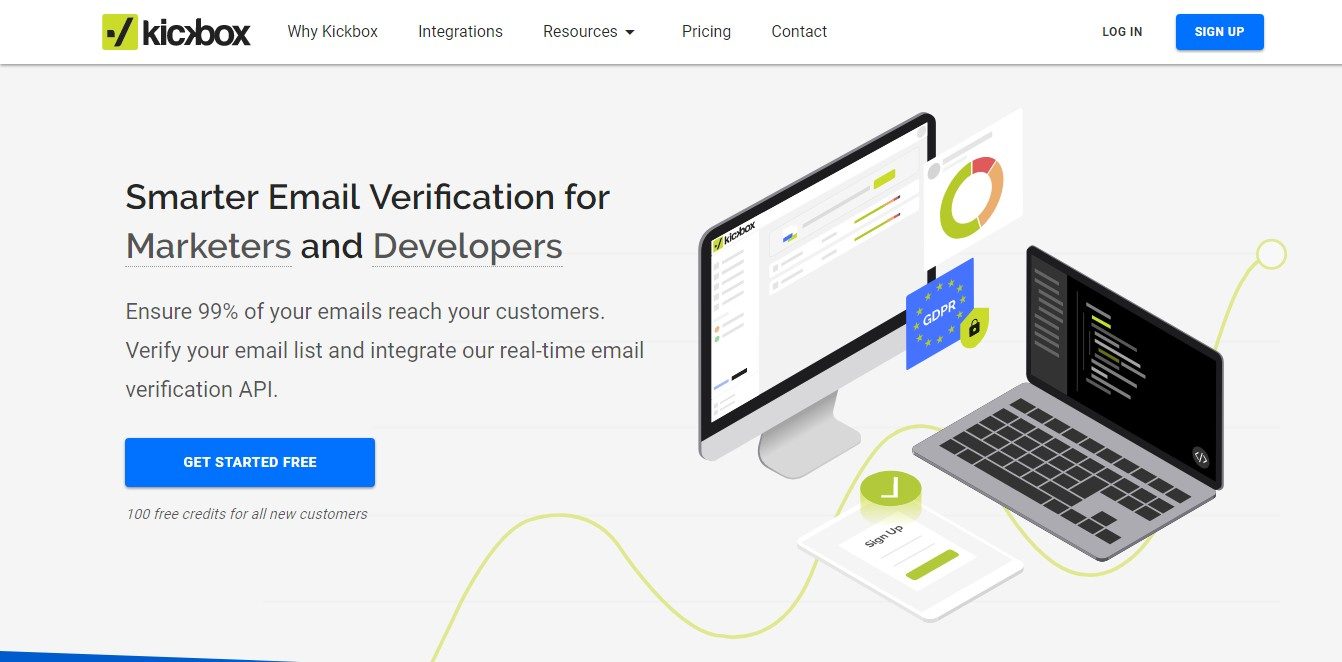 For Price plans kindly visit Kickbox Website
Conclusion :
Whether you have a tremendous number of business and customer contacts, and usually reach out to them over email, it is best to always clean up and validate email lists. However, I would recommend you use the Clearalist – Bulk Email List Cleaning Service causes the interface of this tool simple and easy to use. As we all know, missing out on landing up in important inboxes can result in loss of customers, leading to a notable dip in revenues as well.