If you are in any business, you would want to spend the least and save the most. The more you save, the more you earn. And the most fascinating thing about cost saving is that it is a never-ending process.
Businesses now invest thousands of dollars in email marketing, by hiring costly services that showcase tons of features (many of which may be ineffective for you) and ensure your highest ROIs. But the same level of success can be derived from low-cost email marketing services too, as they also have all the essential features required for a strong email campaign.
So for you to pick from, we've shortlisted the best cheap email marketing services that are fitted enough of generating tremendous returns on your investments.
Moosend is common, but the cheapest email marketing software enables you to send email campaigns at affordable prices. It originates with both SMTP and API integration and has nearly all the required features.
Why Moosend is the best email marketing solution to skyrocket your business?
Click Here to read the complete article
Moosend comes with both Monthly as well as Pay as you go plans, where the first one charges according to the number of subscribers and the after one according to the volume of emails.
For instance, It has plans for up to a huge 800,000 subscribers where it costs $2320 per month.
Moreover, if you take up a plan based on several emails, for up to 100,000 emails you will have to pay $1 per 333 emails plus $0.003 per recipient. Thus, you can assume the higher plans also.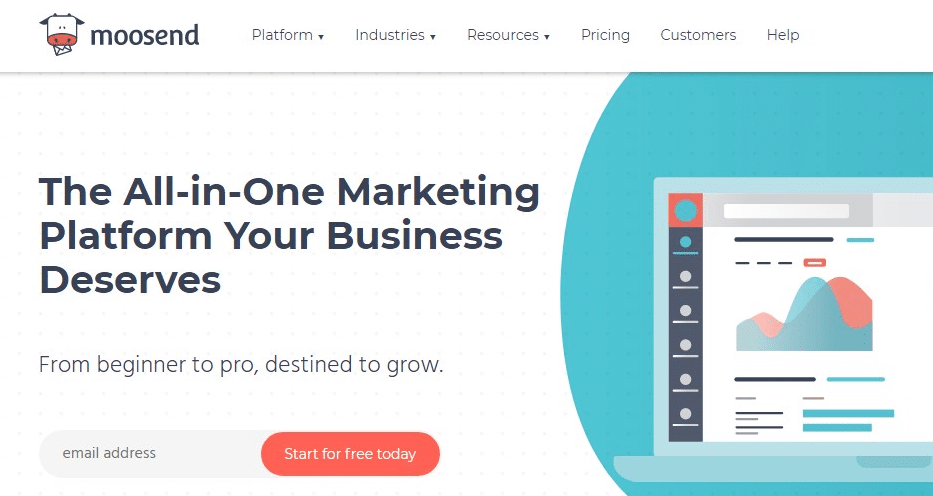 For Price plans kindly visit the Moosend Email Marketing Service Website
GetResponse is an online email marketing tool that provides low-cost service with great features and great prices. The list of features includes Autoresponders, Email Creator, List Management, A/B Split Testing, Landing Page Creator, and much more.
It costs according to the number of subscribers in your contact list. Like for up to 25,000 subscribers, it charges around $145. It further has discounts for Nonprofits and annual buy. And for High Volume, contact the GetResponse team.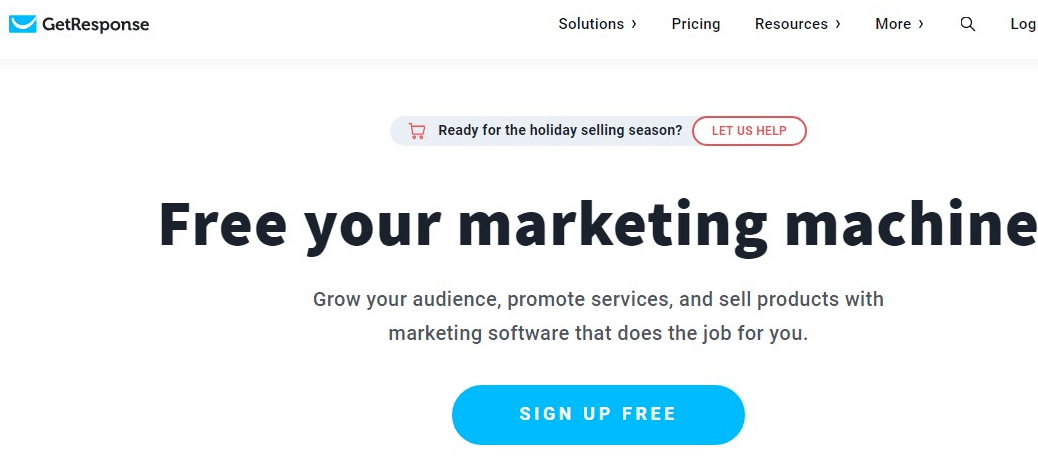 For Price plans kindly visit the GetResponse Email Marketing Service Website
SendinBlue is a low-cost email marketing service with many features like Signup Forms, Email Analytics, RSS to Email, QuickStats, Manage Subscribers List, Subscriber Segmenting, etc.
It prices you in two parts. The primary one is the Advanced Pricing Plan, which you can pay monthly, quarterly, or annually. Other than that there is an additional Subscriber pricing according to your list size.
Like for instance, you have 10,000 subscribers, take a monthly plan, and then your monthly bill would be $69 ($19 + $50).
If you own a subscriber base of more than 25,000 subscribers, you get in contact with them, and they will create out a plan suitable for you.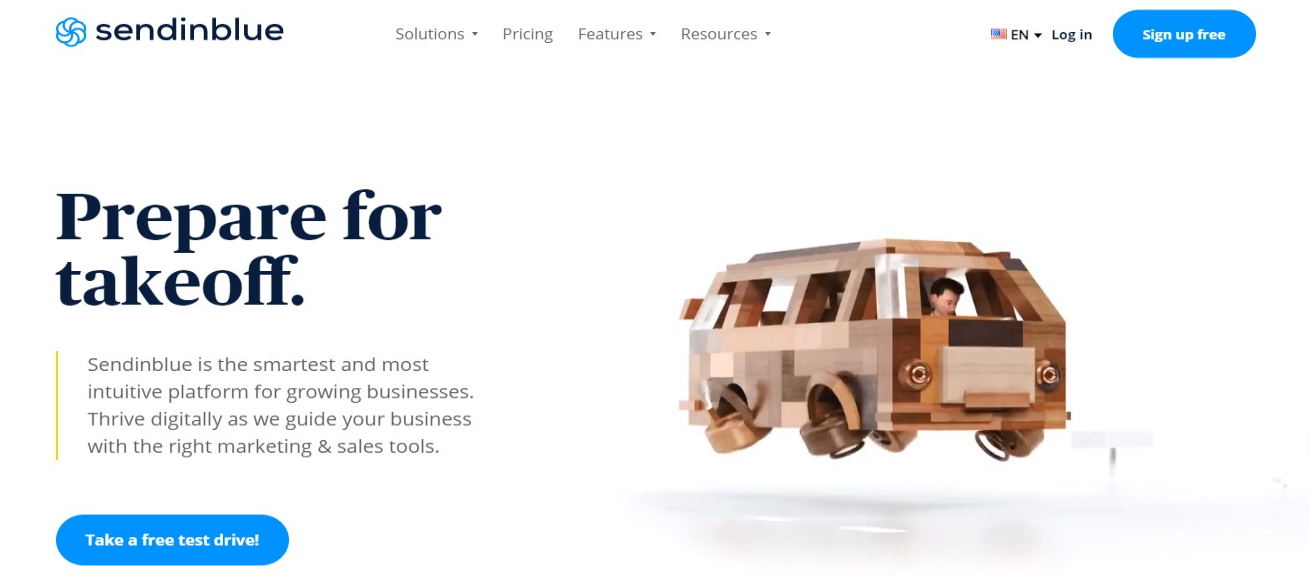 MailChimp is among the top email marketing tool in the race of cheap email marketing services that gives features like A/B Testing, RSS to Email, Analytics, etc.
It has three plans by the names Entrepreneur, Growing Business, and High Volume Sender, pricing of which is based on many subscribers.
The entrepreneur is a permanently free plan that offers 12,000 emails for up to 2,000 contacts per month, whereas Growing Business and High Volume Sender are paid plans.
It also allows the 'Pay as you go' plan when you can purchase email credits and use them according to your requirements. Like acquiring 10,000 email credits will cost you $200 @ $0.02 per email. Pay as you go plan looks a bit costly however you can use your credits for any amount of time.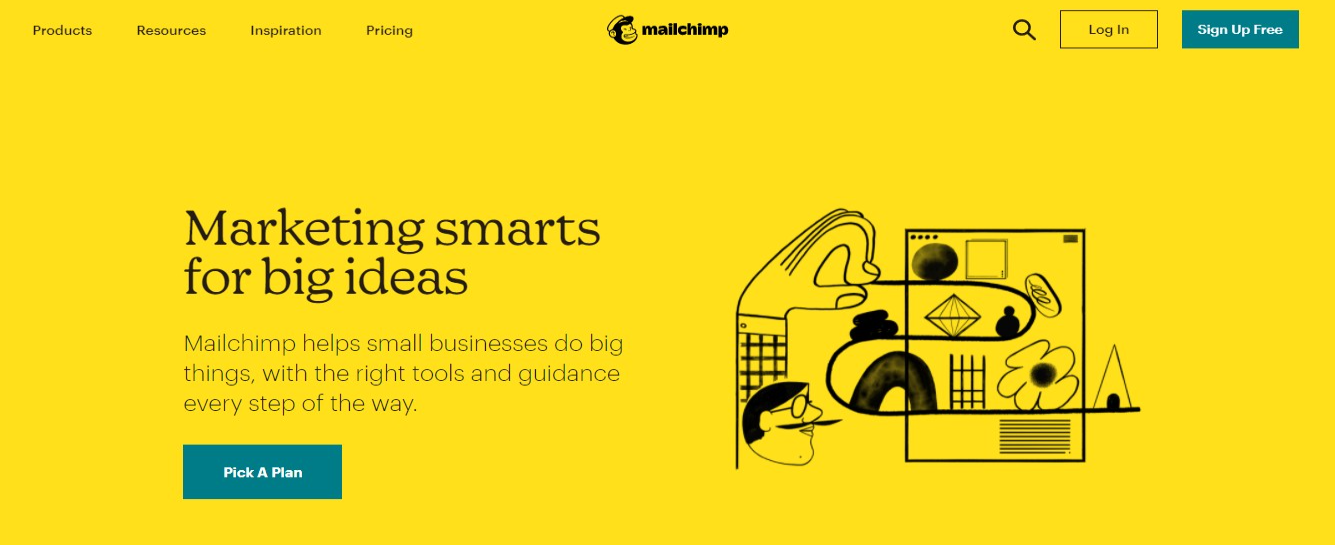 iContact is the best and affordable email marketing software which again is priced reasonably and allows multiple features at the same time. It also has features like Autoresponder, A/B split testing, Third-Party Integration, Email Builder, and Online Surveying.
Moreover, for an email contact list of more than 15,000, you can communicate with them, and they would present you with a customized plan. Moreover, it's pricing for Salesforce is based on the number of emails sent.

The Zoho Campaigns is a Zoho vertical, integrated with Zoho CRM. It is designed for small and medium-sized businesses and is completely automated. It has pre-designed Email Templates, allows A/B Testing, integrates with Google Apps, and does much more at cheap prices.
Zoho Campaigns gives a monthly forever free plan for 2,000 subscribers and 12,000 emails. Additionally, paid plans based on both the number of subscribers and the volume of emails are also there.
Those who do not send emails regularly can take up the 'Pay as you go' plan and purchase email credits.
For a larger number of subscribers, you can use a customized High Volume plan. The email sends limit of this plan is 10 x amount of subscribers.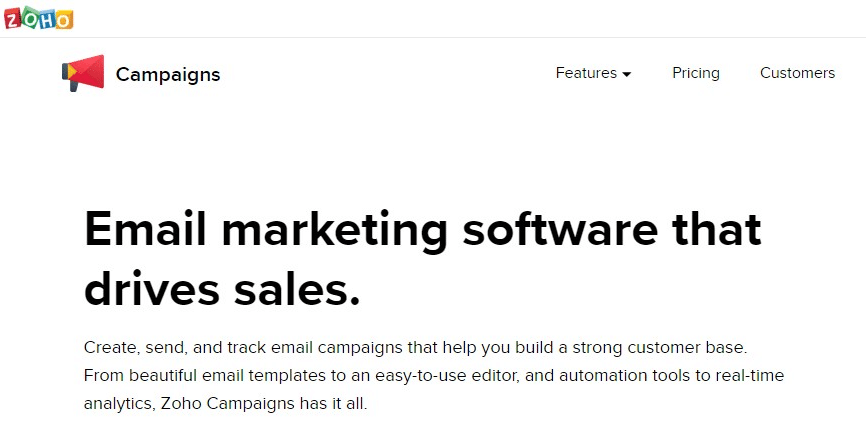 Constant Contact is the answer to the cheapest email marketing services with quite a good number of features and modest prices. It is great at analytics and support and serves you a handful of email templates including list building tools.
It presents plans for up to 10,000 subscribers, above which you will have to contact the sales team of Constant Contact. Constant Contact also gives Nonprofit and pre-pay discounts of 10-30 % and has a 100% money-back guarantee. But hello, terms and conditions apply.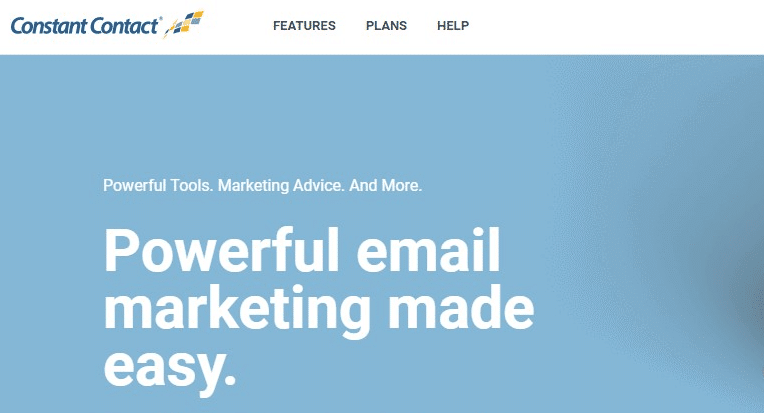 Campaigner is also a great email marketing tool that claims to convert emails into revenue. It is intended for all business sizes and is the cheapest email marketing provider that allows professional email campaign creation, advanced list segmentation & management tools, and targeted email autoresponders & workflows.
It has pricing plans based on several subscribers up to a list of 100,000 contacts, but above 25,000 contacts the plans shift a bit costlier as compared to other services. The High Volume pricing plans are customizable and can be availed of by inquiring a quote or by a call.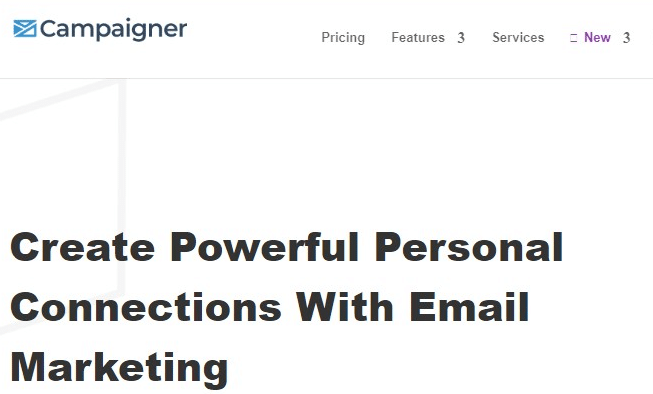 CakeMail is a low-cost email marketing software that assists businesses to send successful newsletters in less time. It comes with a low-priced email marketing solution that offers its users, easy and easy email sending. Its specialties include handmade templates, analytics, easy list management tracking, and support.
CakeMail has simplistic subscriber-based pricing plans up to 25,000 contacts over which you will have to contact the sales team. It has paid plans that come without the logo of CakeMail. This comes with an appealing interface and using it is an enjoyable experience.

EmailOctopus is a simple email marketing tool that runs on the Amazon SES infrastructure. While the free plan doesn't offer as many features as some of the other free email marketing tools on this list, it does allow a lot more emails per month than most of them.
You can send out unlimited emails from as many email addresses as you like. This makes it the perfect solution for a small agency or entrepreneur representing other brands. It also integrates with third-party apps like MailOptin, WordPress, and Zapier so you can seamlessly exchange customer data between different tools.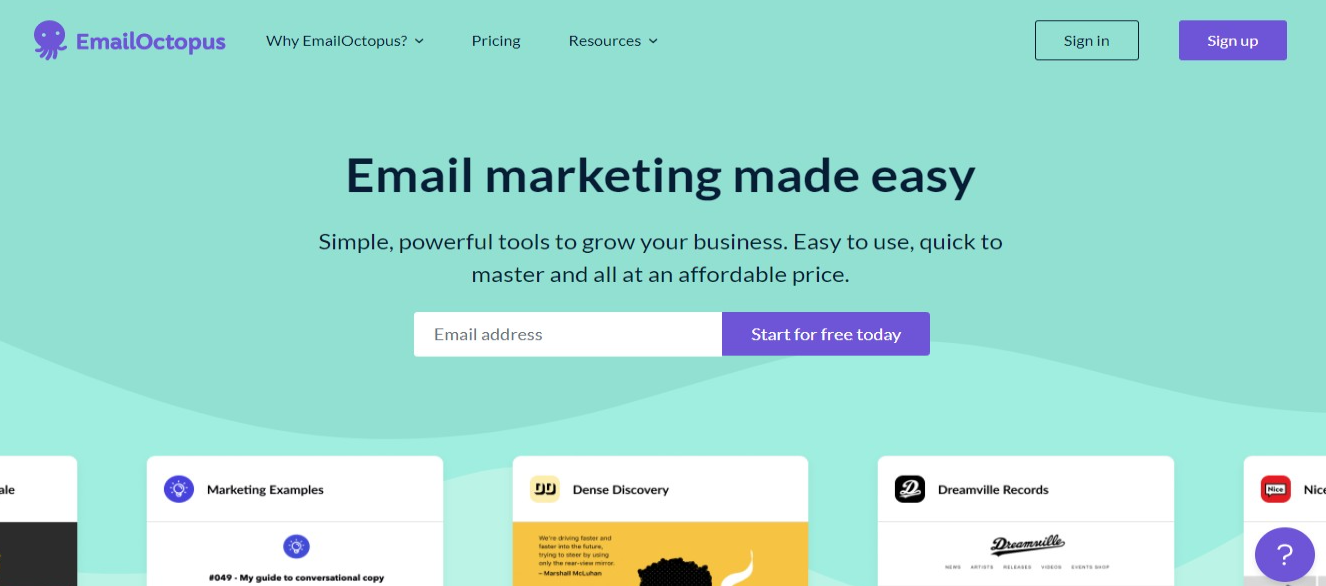 Choosing a good service is a complex task but is a single-time one. Once you get the cheapest email marketing company that suits you the best, you can relax and sit peacefully seeing the conversions it produces for you. So pick well. All the best.
Clean your bad, spam email list, and increase your mail sending reputation by using the Clearalist –  Bulk Email list cleaning service.