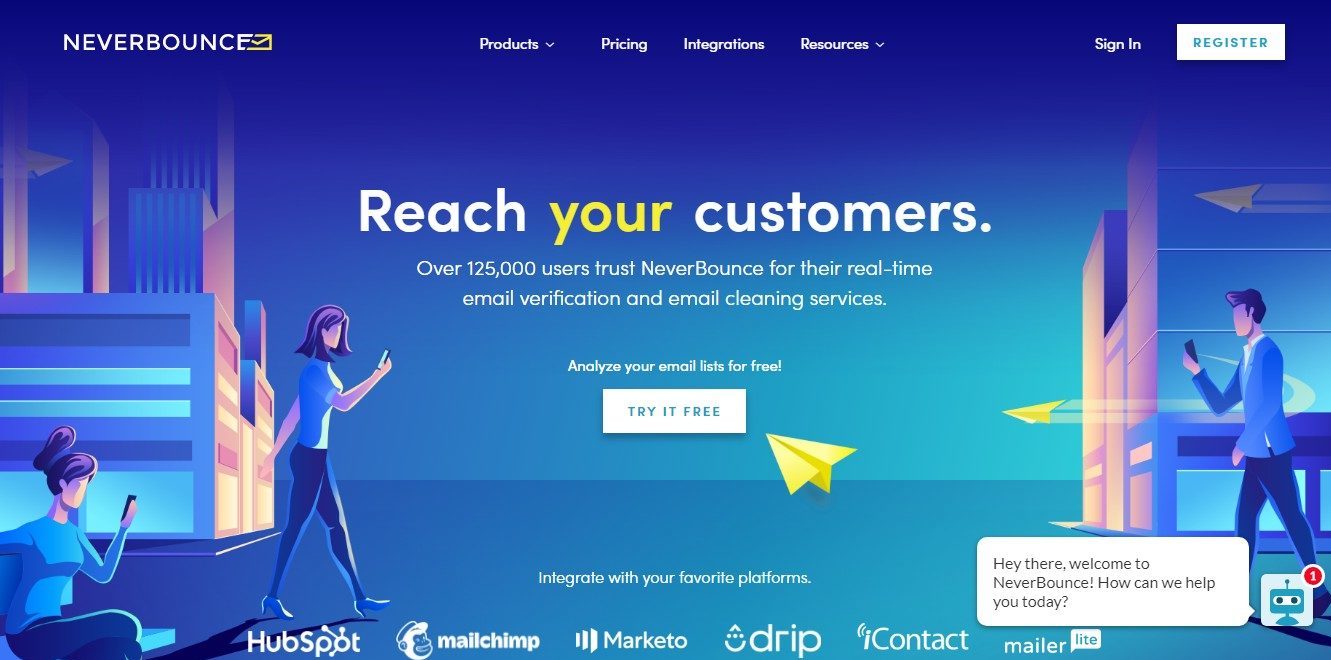 NeverBounce is a real-time email verification tool that identifies invalid emails and can clean your email list. They offer an API and bulk email validation service.
Over 130,000 users use NeverBounce for their real-time email verification and list cleaning services. NeverBounce guarantees companies reach their customers by dramatically increasing the delivery of their emails to the inbox. By checking email validity against a database of 6 Billion emails and excluding outdated email addresses, NeverBounce increases deliverability and helps businesses adhere to strict email provider guidelines.
NeverBounce will clean your email list, so you never have to face any bounced emails. Just upload your list, or connect to 85 integrations. Download your clean list, and enjoy a 99.9% email delivery rate (guaranteed).
NeverBounce uses a 20+ step cleaning process and checks each email 75 times from around the world.
Here's a peek at the process:
Real-time verification combined with accept-all detection.

Advanced verification of mail services to verify user identification using SMTP and other proprietary methods.

Automatic elimination of duplicate emails and bad syntax.

Domain check to view the current status.

Removal of possibly malicious emails.

Validation of all email types and from all major providers.
All results are cut down into categories:
Valid: A tested real address

Invalid: An invalid address

Accept all: Unverifiable

Disposable: Temporary address that's unsuitable for sending

Unknown: Server cannot be reached, so emails are unsuitable
Results are also segmented for download, so you don't have to do any extra work in Excel or other software.
NeverBounce will even recommend emails you should send. Once an email address has been classified, it will be labeled as "send" or "do not send," so you don't send emails to addresses that are invalid or cannot be verified.
The Clean function helps you maintain a list of valid email addresses.
Verify Emails
With NeverBounce, you can validate emails at the point of entry to save you time and difficulty. Just add Verify to your registration forms, lead pages, or wherever else you collect emails.
Verify the one-off emails you collect

Save verification history

Export your results

Custom API and JavaScript widget allow for easy integration

Sync with Zapier to add email verification to thousands of third-party apps
NeverBounce's wrappers give you more control over the integration process:
Java

CURL

PHP

NodeJS

Ruby

Python

Go
NeverBounce's Verify tool saves you the time and trouble of having to clean your list of bogus or invalid email addresses by preventing them from being used in the first place.
The verification process is important. It's the heart of NeverBounce's service, working behind the scenes to check and verify the email addresses on your list. Being able to check emails at the point of entry keeps bogus or invalid emails off of your list, saving you time and money.
NeverBounce Sync
Automate your list cleaning by connecting to your email provider or CRM. NeverBounce has an easy, one-time setup process that makes it easy to automate your list cleaning. Sync will work daily to clean your list.
Sync will monitor and verify that your email data is valid automatically and on a near-daily basis. About 2.5% of emails become invalid every month, so it's essential to clean your list regularly. NeverBounce's Sync tool will take care of this tiresome task for you.
NeverBounce can be integrated into several platforms, including:
ActiveTrail

Agile CRM

Active Campaign

Act-On

Aiva Labs

BombBomb

Autopilot

AWeber

Bronto

CheckMarket

Clevereach

Campaign Monitor

Curated

Drip

CommCare, and more
Why choose Clearalist over NeverBounce?
If you compare the results and accuracy of both the services, you will notice that Clearalist results are slightly better than NeverBounce. The email list cleaning accuracy is the key point of Clearalist.
NeverBounce alternatives
Are you looking for a NeverBounce alternative for your email marketing? We listed a few Neverbounce alternatives.
1. Moosend
Email Marketing Automation Software
2. ExpertSender
Email & Marketing Automation Software
3. Clearalist
Email Verification & Email List Cleaning Service
You May Also Read This –